This AndersonVision interview was conducted by: Erix Antoine
Erix is part of South American Video royalty, but when he's not participating in the family business…he's crushing American pop culture via a series of podcasts and videos. Check out his latest below.
This past week saw the release of Maria Gabriela Cardenas's film A Dark Foe. To celebrate the theatrical release, we had Erix sit down and interview director Maria Gabriela Cardenas and her leading actor…her father Oscar Cardenas.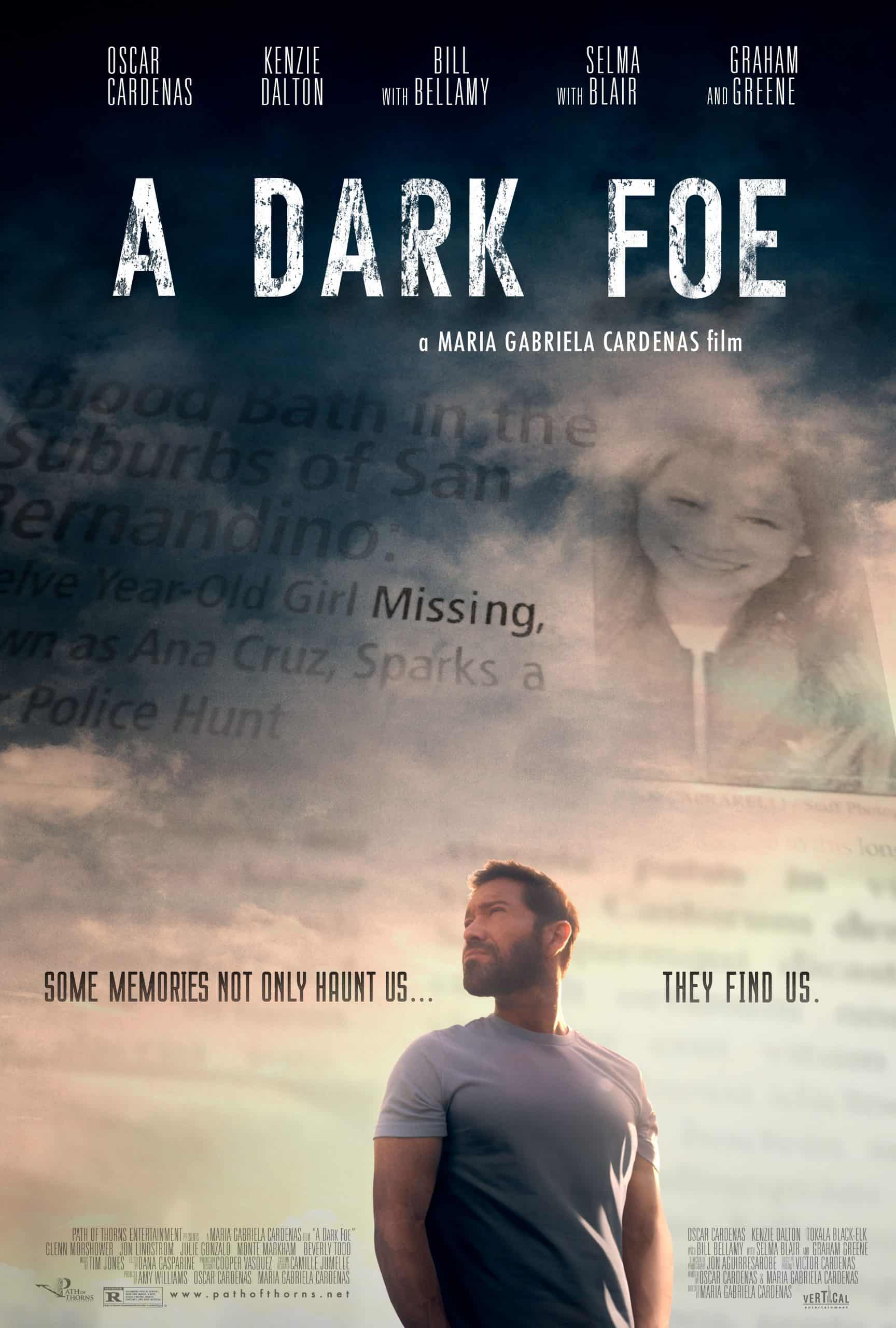 You both got into filmmaking or performing arts at a young age what were each of your experiences like?
Maria: For me it was thanks to my father, cause he started showing me noir films and thrillers and horror films at a very young age and I just fell in love with them. Like all the Hitchcock stuff. It's what made me want to pursue this.
Oscar: It's been a passion for me. I always wanted to make films and act in films. We started out using a small camera that belonged to my father, making shorts with friends and family. And then I started working in TV and theater. But I quit acting because I had to pay my bills.
My family was growing and so suddenly I was doing something else. So my daughter left home to pursue her career in Los Angeles; and when she started making her short films she said "Dad, I know you love doing this. It's your passion. Why don't you start writing stories with me and making short films?" And that's how it was. We did a couple of short films. One of them was accepted into the Cannes Film Festival, and then we decided to make features. And we haven't stopped since.
This is not only Maria's debut film, it is the launch film for a production company…and your goal is to specialize in dark thrillers/horror movies. How did you come to that creative decision?
Oscar: Well that's just what we love. We feel passionate about this genre. Some people make comedies, others make dramas. But this is what we feel like doing. We want to bring people to the edge of their seats.
Why Path of Thorns?
Oscar: When we were thinking of starting a company we thought about the struggles of any endeavor. But in the film industry it's especially tough. So we said from the very beginning we would start a production company that deals in horror movies and thrillers. And on top of that it's just tough to succeed in this job, to get financing… We knew it was going to be tough. So we said: "This is like a path of thorns." It reminds us that we have to stand firm and get through it.
Let's talk about A Dark Foe now… The title is appropriate for many reasons. And am I correct in thinking there's a kind of double (or even triple) meaning? There's the film's villain – a very dark foe, indeed, but then there is the hero's crippling trauma – which is also a kind of foe…and the fact this trauma is a fear of the dark. That's all deliberate, right?
Maria: You got it! That's right!
Oscar: It is that. And also we thought to ourselves that a dark foe is that way of thinking that doesn't let you move forward. That's a really dark foe that anybody can have. This guy is crippled by the guilt and remorse he has and he carries that with him and he hasn't moved forward.
And, yes, the film itself is very dark. Or, at least, it deals in very dark subject matter. What inspired this?
Oscar: Redemption isn't always neat. Like life itself. And every day, right now, there is something really dark happening to someone. And so we were thinking about all that. We went down that path.
So it's almost like the first film from the production company is a mirror of the company name.
Maria: Oh yeah! That's right!
Correct me if I'm wrong, but I see a touch of noir cinema here. In the genre archetypes employed… the. Burned out cop, the femme fatale… Then, elements of the score certainly evoke classic noir cinema, was this deliberate?
Maria: Oh yeah, absolutely. We wanted this movie to have a noir feeling. When you think of noirs, they are very tragic and crime-ridden and also beautifully shot. And we wanted to have those elements. Especially for the underworld… Like the first time you see Rebecca, she takes him down there. So we really wanted to impact the audience by bringing those noir colors into the film. And all these strange characters that we love so much. They served the story.
Oscar: I remember Maria told Tim (Jones, the composer) during one of our meetings. She wanted the score to really have that feel.
Something else it made me think of is the work of Paul Schrader… You build to what could be called a "redemptive bloodbath," much like Taxi Driver, Rolling Thunder, Hardcore… Or am I totally off base?
Oscar: Not at all. You're right there too. It's a redemption story where the protagonist looks like shit outside and inside all the time. He's a mess. And he's riddled with fatalities. He takes follows this lead with a beautiful woman and just goes down a rabbit hole. Into an underworld of sex and death. It's tough to watch, but at the same time entertaining for fans of the genre.
This film offers Graham Greene like we've never seen him before. How did his casting come about?
Maria: When we started writing the script, and thinking of who we could cast, we thought of Graham Greene right away. And we approached his agent and, 48 hours later, he said yes. We were so surprised! And he was super great to work with, and extremely professional. Super collaborative. And it was great to see him in this role that's very different from what he's done.
The film also features Ireland Baldwin in a small but key part… How did that happen?
Maria: Through our casting director. She came in to audition and she did great.
Oscar: It was an instant thing. She was nice and sweet; and great to work with. She gave me so much to react to.
Obvious question time: Maria – what's it like directing your dad?
It feels great because when we're on set we respect each other's roles. Like, I'm the director and he's the actor. And we listen to each other. We try things one way, and if that's not working and he has a suggestion, we try it his way. And that's the way it goes with any actors.
But this is a great experience because we're both so passionate about making this film. When you have something you love so much, and you have someone who loves it as much as you do, you give it your all.
And Oscar… how did it feel being directed by your daughter?
It's amazing. You raise a child, and you watch her grow up, and then she leaves home. And then you see her again in a professional capacity. And it's like an abstraction because you have to see her in a new light, compared to your original relationship.
And so I just let myself be guided by her vision. And I tried to give some ideas related to my character but in the end it is her vision. And I feel great. She was a great director for all of us. We felt safe.
Your collaboration has definitely resulted in an attention-grabbing film. What's next for Path of Thorns Entertainment?
Maria: We are currently writing two films. So we'll see how that goes.
Oscar: We've been working on them for more than a year. But it's gonna be great. It's leaning more towards horror this time.
Thank you so much for your time, it's been a true pleasure.
Oscar: We feel honored to be here, and that you enjoyed the film; and all we can say is please spread the word.