G.I. Joe: Retaliation plays actually closer to what one would expect from a G.I. Joe movie. You know, actually have footing in the comics, toyline, cartoon, literally anything from the prior work. No more bionic armor, ambiguous international commando squad action and the worst actors of the first movie get killed off or dialed back. But, they do linger on Zartan pretending to be the President a little too long. But, how does it look in 4K?
Dwayne Johnson used to be called franchise Viagra. It's not like he lost that title, it just became one of those natural facts that everyone accepts. Johnson saves movies by being in them, however he can't save G.I. Joe: Retaliation enough. What does that exactly mean?
Well, the movie is pretty dumb. Serving as a course redirect from the rather rudderless G.I. Joe: The Rise of Cobra, Retaliation feels like three movies in one. You have the clean-up from the first movie, an attempt to introduce a new Joe team and Hasbro/Paramount's effort to establish a G.I. Joe Universe. While this effort would have played better circa 2000-2008, it hits like a cooler full of brown water in 2013.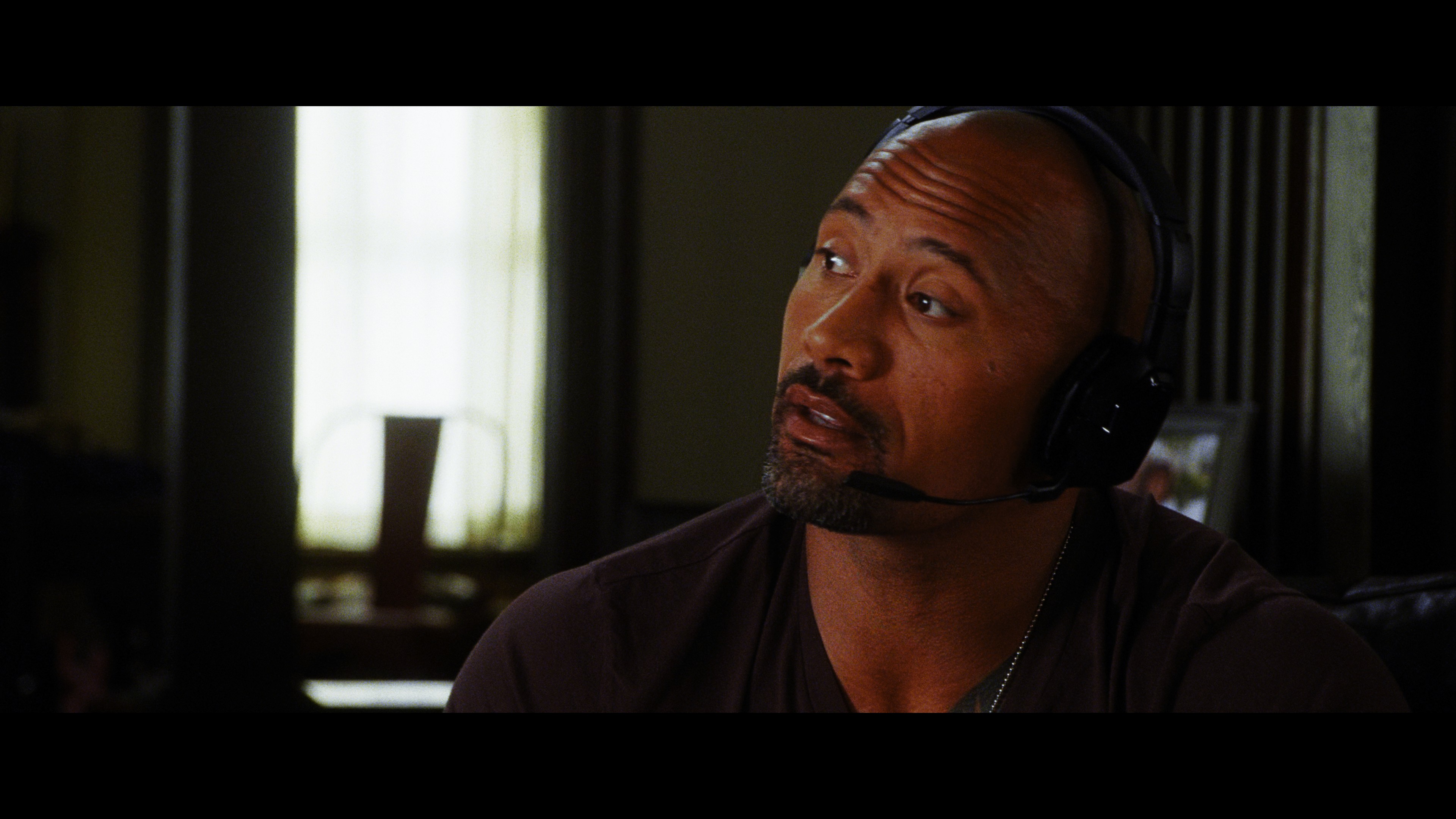 Cartoon adaptations always feel like they have to wink at the audience or go genitals deep into the loving fanbase. Anything in-between comes across as tepid and gets ignored. But given how COVID is killing audience love for anything that is non Fast or not-so Furious, we might be in for a cultural shift. What's going to happen this time? We had car movies, then superheroes, then cars and I guess we're due to the return of R-rated sex romps?
Director Jon M. Chu fascinates me. Even on romantic comedies such as Crazy Rich Asians, he has amazing command over visuals. However, the scripts he works with leave a lot to be desired. Even In the Heights had a very flat story, regardless of your love affair with Lin-Manuel Miranda. The man knows how to direct, as several shots of Retaliation demonstrated a capability that far surpasses anything in The Rise of Cobra.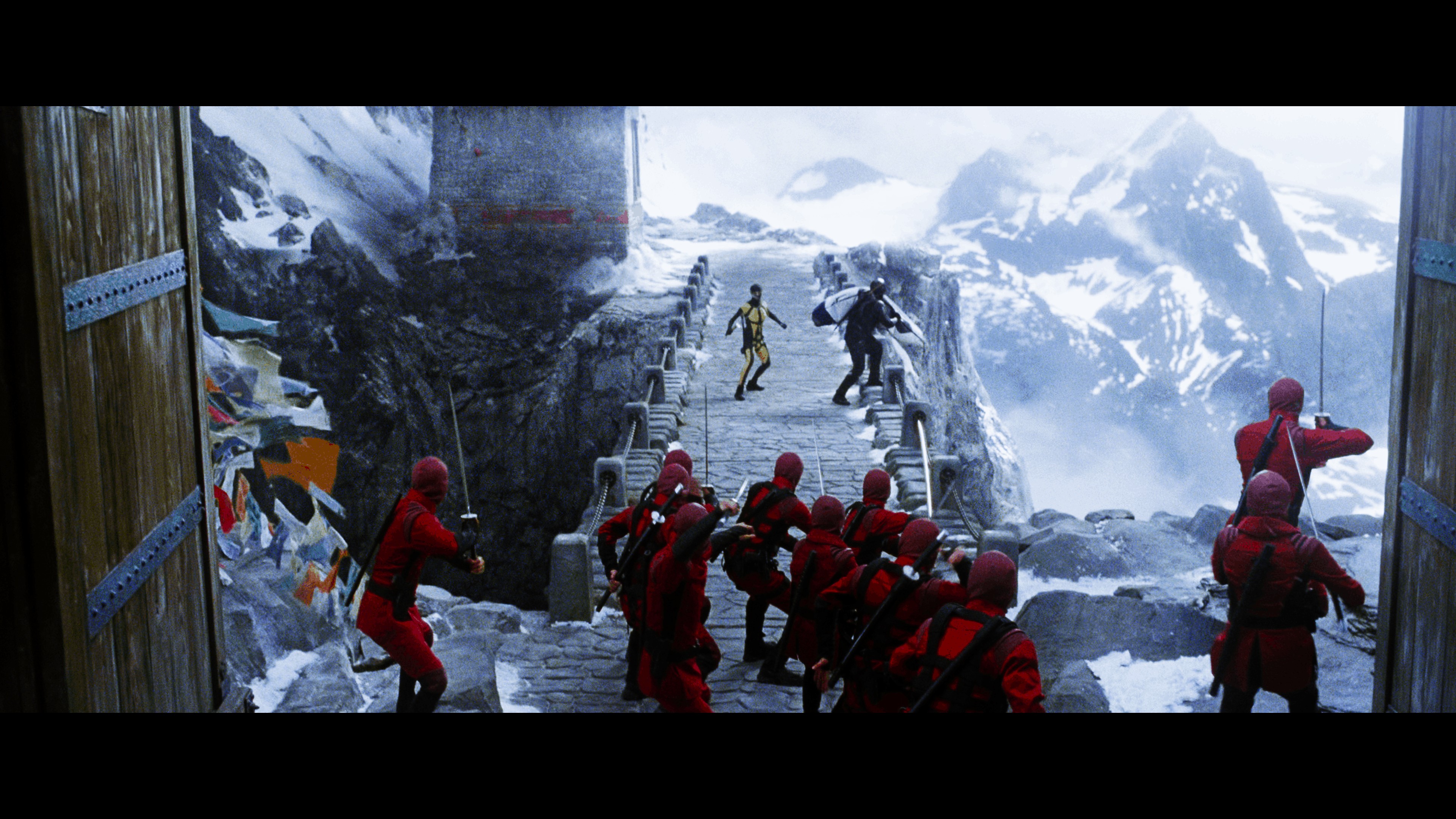 There comes a point when watching movies like Retaliation where my pop culture brain and my art brain collide. I get the business model of making movies like this, but I also want things like complete stories. While Larry Hama and company had years to work out their massive epics, there were smaller sections that functioned as something more than three episodes of the cartoon stitched together.
Sometimes, the only thing worse than being a disaster is being underwhelming. No one likes to go to the toybox and be told that you can only play with a deck of cards and a smelly 4-LOM figure. Nobody likes 4-LOM, dude only got to meet Vader because he got pulled into the gravity of Zuckuss's invitation. But, there I go talking about the hunt for the Falcon in Empire Strikes Back rather than anything in Retaliation.
What does that mean for a gathering of people wanting to read a 4K review of the disc? Well, not much. Look at the screenshots and imagine the mountainside chase rattling your kidneys apart. It's impressive on the A/V Quality side.
The G.I. Joe Retaliation 4K UHD arrives in a similar package to Rise of Cobra's 4K UHD debut. Paramount typically does amazing jobs on the 2160p transfers and the Dolby tracks. However, I wish we could have received more special features than a commentary and ported over Blu-ray material. But, the market is what it is and kids don't watch anything older than 2016. Enjoy your past loves in 4K today!
G.I. Joe: Retaliation is on 4K UHD now from Paramount!