Get ready for an adrenaline-pumping thrill ride as Netflix's blockbuster action film, 'Extraction,' gets an electrifying sequel. In 'Extraction 2,' the charismatic Chris Hemsworth reprises his role as Tyler Rake, the Australian black ops mercenary. After narrowly surviving the intense events of the first movie, Rake is back, facing yet another dangerous mission. This time, he must rescue the battered family of a ruthless Georgian gangster from a high-security prison.
Directed by Sam Hargrave, with AGBO, the production company led by Joe and Anthony Russo, handling the production and Joe Russo taking on the writing duties, 'Extraction 2' promises to deliver a heart-pounding cinematic experience. The film also features an impressive cast, including Golshifteh Farahani, Adam Bessa, Olga Kurylenko, Daniel Bernhardt, and Tinatin Dalakishvili.
Fans of the first film will be thrilled to see Chris Hemsworth's return as the enigmatic Tyler Rake. Known for his role as Thor in the Marvel Cinematic Universe, Hemsworth once again proves his action prowess in this intense sequel. Directed by Sam Hargrave, who made his directorial debut with 'Extraction,' this installment promises to be a captivating continuation of Rake's journey. The Russo brothers' AGBO production company, known for their work on Marvel films, brings their expertise to the project, ensuring an adrenaline-fueled and visually stunning experience for viewers.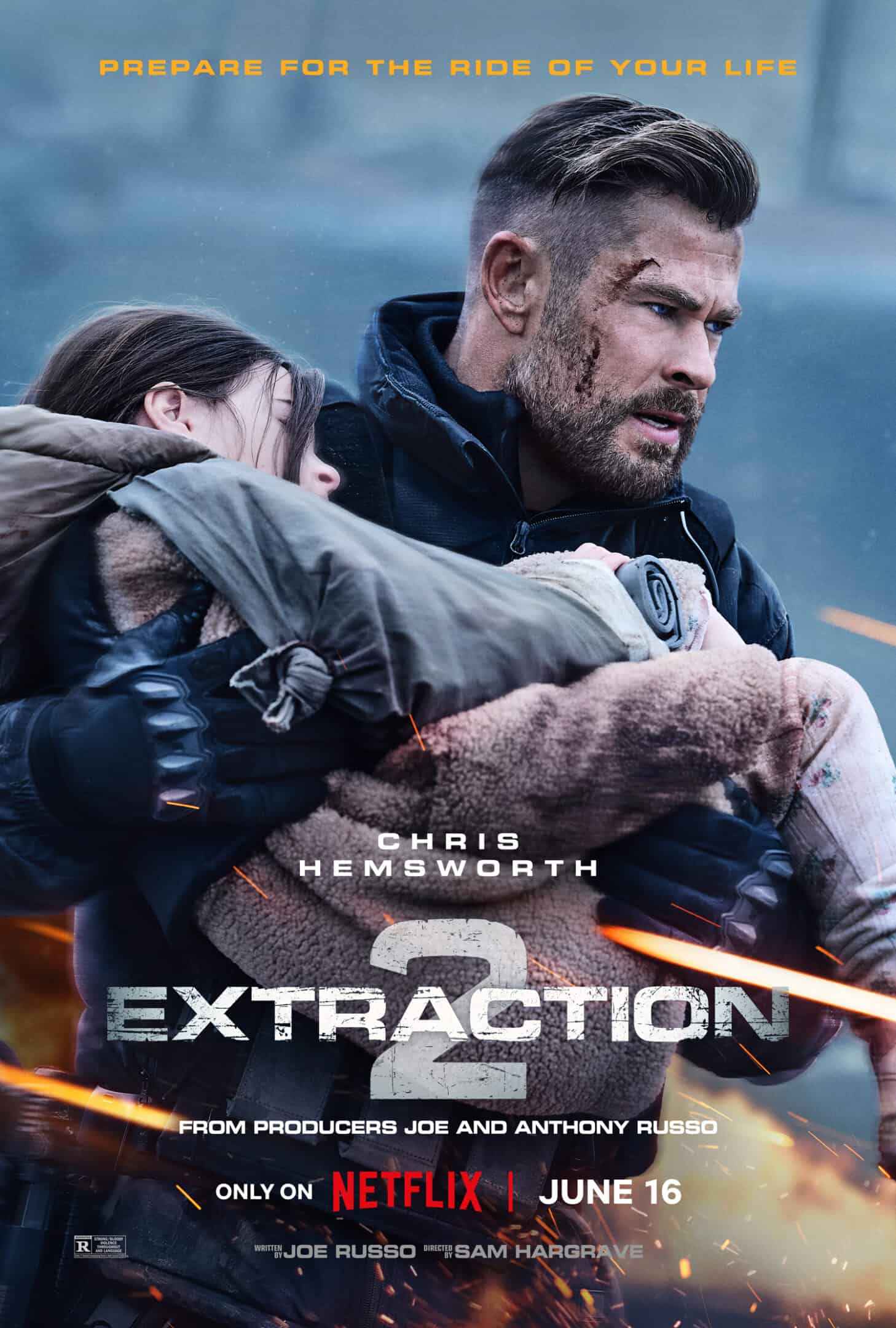 In 'Extraction 2,' Tyler Rake is tasked with the perilous mission of rescuing the family of a ruthless Georgian gangster. Held captive in a heavily fortified prison, their lives hang in the balance. Rake must once again utilize his exceptional skills as a black ops mercenary to navigate a treacherous landscape and save those who are in desperate need of his help. Brace yourself for intense action sequences, gripping suspense, and emotionally charged moments as Rake faces his biggest challenge yet.
Joining Chris Hemsworth in the cast is the talented Golshifteh Farahani, reprising her role from the first film. Additionally, Adam Bessa, Olga Kurylenko, Daniel Bernhardt, and Tinatin Dalakishvili deliver stellar performances, enhancing the film's intensity and drama. The chemistry between the actors adds depth to the characters, ensuring a captivating on-screen dynamic.
'Extraction 2' is a sequel to the original film, which was based on the graphic novel 'Ciudad' by Ande Parks. The graphic novel, featuring a story by Ande Parks, Joe Russo, and Anthony Russo, with illustrations by Fernando León González, served as the foundation for the gripping narrative. This sequel takes the story to new heights, expanding the world established in the first film and offering audiences an exhilarating continuation of Tyler Rake's journey.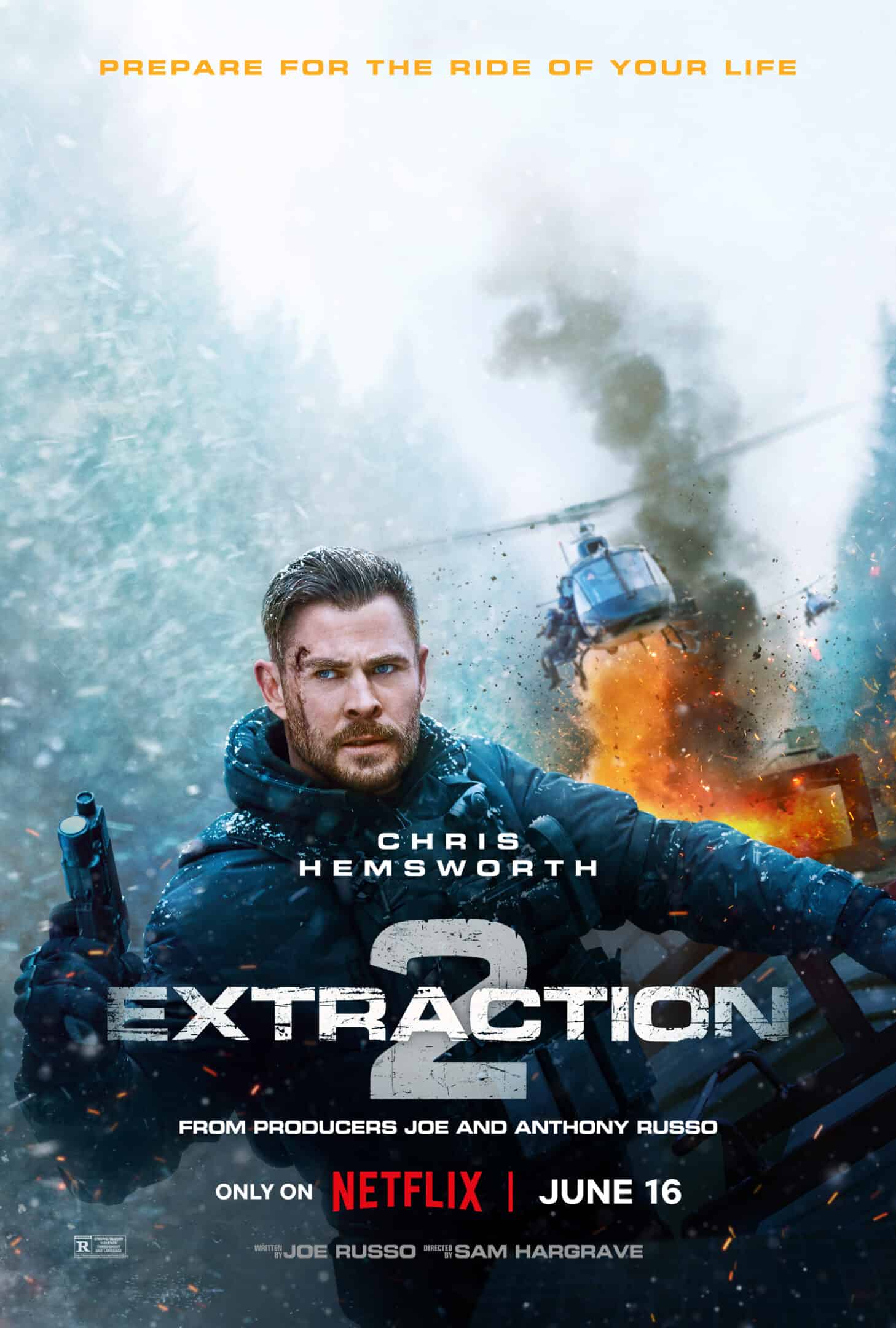 Produced by Anthony Russo, Joe Russo, Mike Larocca, Angela Russo-Otstot, Chris Hemsworth, Patrick Newall, and Sam Hargrave, 'Extraction 2' brings together a talented group of filmmakers. Executive producers include Jake Aust, Benjamin Grayson, Steven Scavelli, Christopher Markus, and Stephen McFeely. With their combined expertise and creative vision, they contribute to the film's captivating storytelling and impressive production quality.
Gear up for an action-packed sequel as Chris Hemsworth returns as Tyler Rake in 'Extraction 2.' The highly anticipated follow-up to Netflix's blockbuster hit promises to deliver the same level of adrenaline-pumping excitement that made the first film a fan favorite. With Hemsworth reprising his role and the talented director Sam Hargrave at the helm once again, viewers can expect a captivating cinematic experience filled with thrilling action and gripping storytelling.
As production company AGBO, led by Joe and Anthony Russo, takes charge of bringing 'Extraction 2' to life, fans can rest assured that the film is in good hands. The Russo brothers, known for their work on the Marvel Cinematic Universe, have a knack for delivering high-quality action and compelling narratives. Their involvement guarantees that the sequel will surpass expectations and captivate audiences worldwide.
Joining Hemsworth on this adrenaline-fueled adventure are Golshifteh Farahani, Adam Bessa, Olga Kurylenko, Daniel Bernhardt, and Tinatin Dalakishvili. This ensemble cast brings a diverse range of talent to the screen, adding depth and dimension to the characters they portray. With their combined skills and chemistry, the performances are bound to leave a lasting impression on viewers.
Building on the success of the first film, 'Extraction 2' dives deeper into Tyler Rake's world, exploring new challenges and pushing the boundaries of what he thought was possible. The sequel promises to up the ante with even more intense action sequences, breathtaking stunts, and emotionally charged moments that will keep audiences on the edge of their seats.
While an official release date for the film has yet to be announced, fans eagerly anticipate the arrival of the trailer, which will provide a tantalizing glimpse into the heart-stopping action and gripping narrative that await them. The debut of the trailer will undoubtedly generate buzz and excitement, setting the stage for what promises to be an epic cinematic experience.
As fans anxiously await the release of 'Extraction 2,' it's clear that the film has all the ingredients necessary to become another Netflix sensation. With Chris Hemsworth reprising his role as the indomitable Tyler Rake, coupled with the expertise of director Sam Hargrave and the production prowess of AGBO, this sequel is poised to exceed expectations and leave audiences craving more.
Stay tuned for further updates, as the release date and additional details about 'Extraction 2' will soon be revealed. Get ready to be immersed in an action-packed journey filled with intense moments, unforgettable performances, and the gripping story of a black ops mercenary willing to risk it all.
Brace yourself for the adrenaline rush of 'Extraction 2,' coming soon to Netflix.