A new documentary narrated by Ewan McGregor zooms into theaters this fall, chronicling the meteoric rise and tragic downfall of British motorcycle visionary Philip Vincent.
Speed is Expensive: Philip Vincent and the Million Dollar Motorcycle revs its engine with an American premiere on September 20 in Los Angeles. The film then launches into a wider release across North America, available on DVD and digital platforms starting September 26.
Part historical snapshot, part cautionary tale, this award-winning documentary takes viewers on an emotional ride through the life of one of motorcycling's most brilliant yet flawed pioneers.
Speed is Expensive – narrated by Ewan McGregor. Official trailer from SpeedisExpensive on Vimeo.
The Story Behind the World's Most Expensive Motorbike
When a rare 1948 Vincent Black Lightning smashed auction records in 2018, selling for an astonishing $1.2 million, it sparked renewed interest in the maverick designer behind these sought-after bikes.
Vincent motorcycles set more speed records in the 1940s and 50s than any other manufacturer. Stars like Brad Pitt and Ryan Reynolds now collect these chrome masterpieces.
Yet the man who built the Vincent legend lived his final years destitute and forgotten, done in by his own perfectionism and self-destructive tendencies.
Inside the Mind of a Complex Genius
Philip Vincent's relentless drive for innovation yielded superbikes years ahead of their time. But it also came at a heavy personal cost that would leave him penniless by the end.
Through unearthed archival footage and audio interviews, the documentary provides an unflinching yet empathetic look at Vincent's brilliance and flaws. His tireless work ethic fueled round-the-clock hours at the factory. But it took a toll on his mental health and personal relationships.
Vincent pioneered clever guerrilla marketing tactics like sponsoring backstreet motorcycle races to promote his bikes. However, perfectionism led him to constantly tinker with new models instead of profiting from established ones.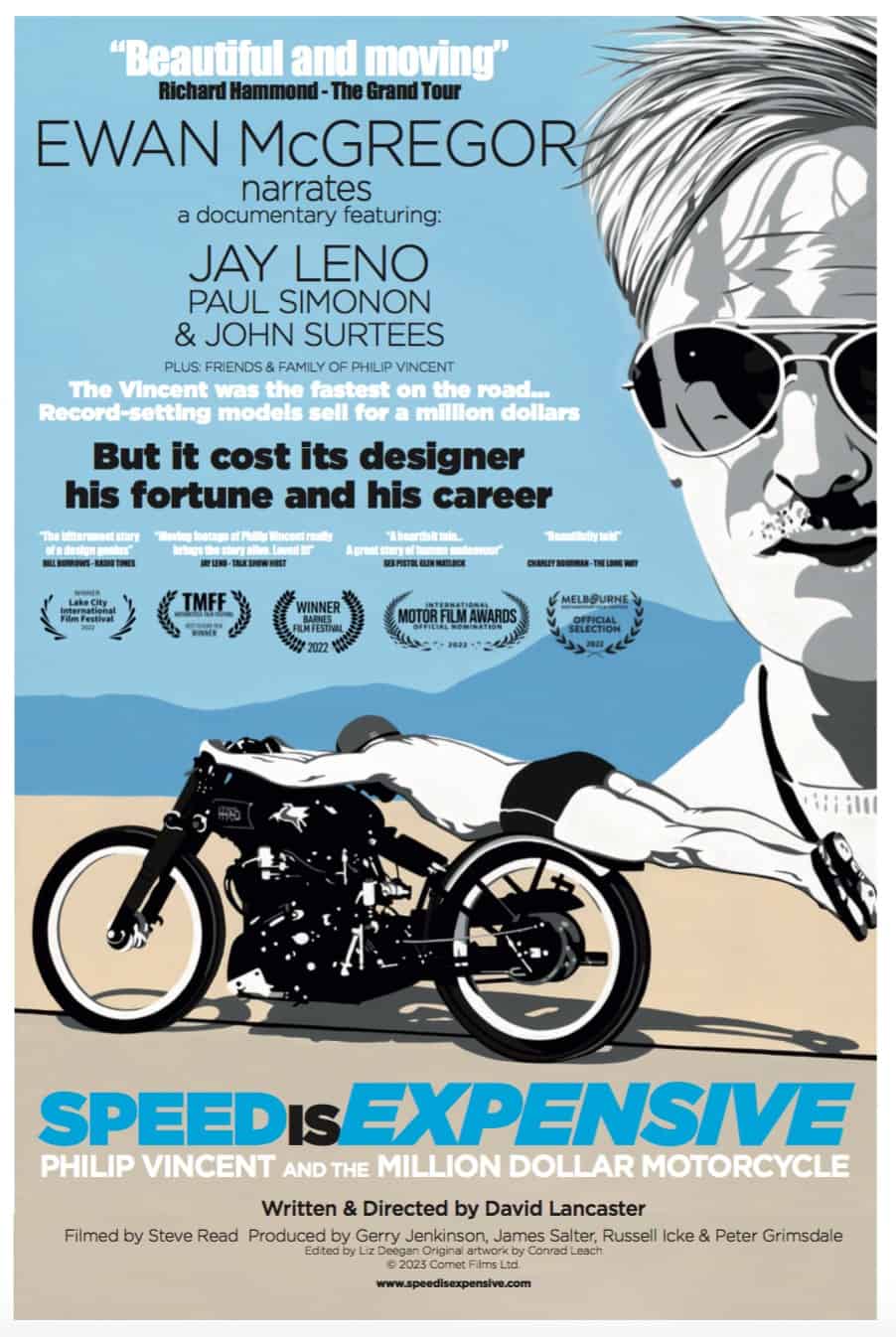 Star-Studded Storytelling
Ewan McGregor's distinctive voice lends gravitas and emotion to Vincent's remarkable narrative. The Scottish actor brings quiet intensity to recounting Vincent's visions of speed and stardom.
Insights from Jay Leno, The Clash's Paul Simonon and other motorcycle aficionados provide added perspective on Vincent's lasting impact. Interviews with Vincent's family and colleagues offer an intimate look at the man behind the machine.
Footage of a frail Vincent near the end of his life adds poignancy. As it chronicles a brilliant career that crashed too soon, Speed is Expensive touches the heart as much as firing the cylinders.
Thrilling Festival Favorite Coming to Home Release
Already igniting awards buzz and festival acclaim abroad, Speed is Expensive hits American shores with an LA premiere on September 20. DVD and digital releases follow on September 26 to rev up engines across North America.
This beautifully shot and thoughtfully assembled documentary should captivate both motorcycle lovers and anyone fascinated by tragic geniuses who changed history.
So gear up for a riveting ride with one of motorcycling's most brilliant and haunted pioneers when Speed is Expensive kicks into high gear this fall. The astonishing story of Philip Vincent makes it a must-see for adrenaline junkies and thoughtful biography fans alike.
Speed is Expensive has its big release this September