New York's premier horror festival is back with a demonic lineup set to haunt Brooklyn from October 12-19. The Brooklyn Horror Film Festival just announced the full program for its 2023 edition, holding screenings at Nitehawk Cinema's Williamsburg and Prospect Park locations.
Horror hounds can expect an otherworldly mix of provocative premieres, celebrated genre masters, and spotlight honors for NYC legends. Opening night brings the world premiere of chilling relationship thriller Kill Your Lover from up-and-coming directors Alix Austin and Kier Siewert.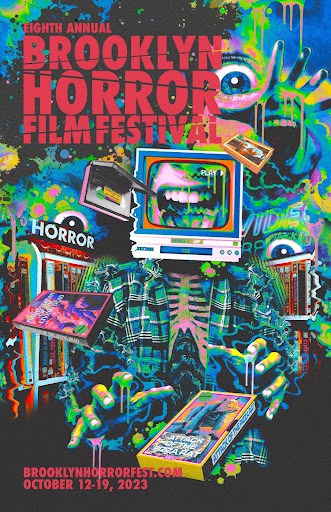 BHFF will also debut three more highly-anticipated world premieres: Jaco Bouwer's Breathing In, Aimee Kuge's audacious Cannibal Mukbang, and Tyler Chipman's creepy The Shade. Rounding out the buzzy premieres is Pascal Plante's hotly-tipped Red Rooms as the Centerpiece Film and Jenn Wexler's '70s-set The Sacrifice Game as the Closing Night selection.
In a major highlight, BHFF is inaugurating the Leviathan Award, which will go to revered NYC horror icon William Lustig at a special 35th anniversary screening of his cult classic Maniac Cop. Lustig will partake in a rare public audience Q&A after the screening.
Beyond the premieres, standouts include new works from festival faves Larry Fessenden and the Adams Family along with acclaimed titles like Monolith, Ringu, and Sleep. BHFF's signature programs are also back, including LGBTQ and home invasion spotlights, a deep dive on Japanese horror, and midnight staff picks featuring stone-cold classics.
With its finger firmly on the pulse of the latest boundary-pushing horror, BHFF 2023 promises to leave NYC audiences shaken.
Don't miss the chance to catch these provocative premieres and celebrate horror history when the festival takes over Brooklyn this October!