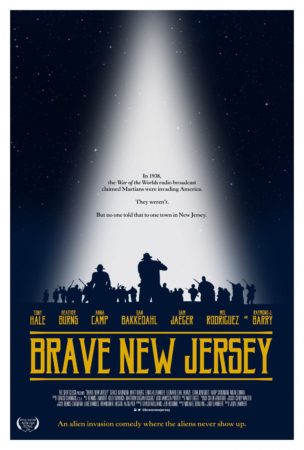 BRAVE NEW JERSEY
BRAVE NEW JERSEY REVIEWED
"Brave New Jersey" plays right into the things I loved about period pieces. Specifically, the ability to forgo modern sensibilities and believe in a Depression era world. While it's fun to ridicule people that bought into the Martian Invasion panic, it's also a stunning look at the power of media. Media influence and its control on the infrastructure of information is stunning. I don't expect urban readers to quite get the impact, but rural people know what I'm talking about.
Tony Hale shines in this film by playing into the ability to see how panic can perpetuate. Fearful situations in a mob setting exist when disinformation spreads fast. At the time, media centers like NYC and LA were treated like definitive bastions of utility truth. Politics came from DC, food came from Middle America and our information came from NYC. When Orson Welles played an unannounced Halloween prank on the American populace, how were these people supposed to know?
Comedy is always found in the rear view and "Brave New Jersey" revels in it. Hopefully, this heartfelt film can find the right audience in August. It deserves all the love it can get.
FILM STATS
Not Rated
1 hr and 26 mins
Gravitas Ventures
RELEASE DATE: 8/4/17
The Plot Thus Far
A comedy about a small New Jersey town on the night of Orson Welles' legendary 1938 "War of the Worlds" radio broadcast, which led millions of listeners to believe the U.S. was being invaded by Martians.
You must log in to post a comment.