Pretty in Pink debuts on Blu-ray June 16th
Produced and written by John Hughes and directed by Howard Deutch, the beloved teen classic PRETTY IN PINK is the latest addition to the Paramount Presents line. Newly remastered from a 4K transfer supervised by Deutch, the film arrives on Blu-ray for the first time ever June 16, 2020.
Designed for collectors and fans, the Paramount Presents Blu-ray Disc™ line showcases the studio's renowned library, from film-lover favorites to celebrated classics. Presented in collectible packaging that includes a foldout image of the original theatrical poster, and an interior spread with key movie moments, the PRETTY IN PINK Blu-ray also includes a new Filmmaker Focus with director Howard Deutch and, for the first time, the film's isolated score track from composer Michael Gore. Also included is the previously released featurette "THE LOST DANCE: The Original Ending."
Teen sensations Molly Ringwald (Sixteen Candles, The Breakfast Club) and Andrew McCarthy (St. Elmo's Fire) drew rave reviews for their starring performances in this timeless love story. Andie (Ringwald) is a high school girl from the other side of town. Blane (McCarthy) is the wealthy heartthrob who asks her to the prom. But as fast as their romance builds, it's threatened by the painful reality of peer pressure. The film also stars Jon Cryer, James Spader, Harry Dean Stanton, and Annie Potts and features a phenomenal new wave soundtrack, including the title track by the Psychedelic Furs.
Additional titles available in the Paramount Presents collection on Blu-ray include: Fatal Attraction, King Creole, To Catch a Thief, Flashdance and Days of Thunder.
Airplane! celebrates its 40th Anniversary with new Blu-ray release July 21st
A masterpiece of off-the-wall comedy, AIRPLANE! celebrates its 40th anniversary in 2020 with a brand-new Blu-ray in the Paramount Presents line, as well as a limited edition Blu-ray Steelbook, both arriving on July 21, 2020 from Paramount Home Entertainment.
Originally released in July of 1980, AIRPLANE! was a major hit and become a pop culture touchstone. Voted "one of the 10 funniest movies ever made" by the American Film Institute, the film continues to be widely referenced and quoted 40 years after its theatrical debut.
The Paramount Presents Blu-ray and limited edition Steelbook each includes the newly remastered film from a 4K transfer supervised by writers/directors Jim Abrahams, David Zucker and Jerry Zucker, a new Filmmaker Focus on the directors, a new Q&A with the directors recorded at the Egyptian Theater in Hollywood in January 2020, and an isolated music score by Elmer Bernstein. The discs also include previously released audio commentary with the directors and producer Jon Davison.
Robert Hays stars as an ex-fighter pilot forced to take over the controls of an airliner when the flight crew succumbs to food poisoning. The all-star cast also includes Julie Hagerty, Robert Stack, Lloyd Bridges, Peter Graves, Leslie Nielsen, and Kareem Abdul-Jabbar. The outrageous comedy spoof skewers airplane disaster flicks, religious zealots, television commercials…and everything else in its path.
Additional titles available in the Paramount Presents collection on Blu-ray include: Fatal Attraction, King Creole, To Catch a Thief, Flashdance, Days of Thunder and Pretty In Pink. This collectible line spans celebrated classics to film-lover favorites, each from the studio's renowned library. Every Paramount Presents release features never-before-seen bonus content and exclusive collectible packaging.
Check Out DEG's Watched at Home Top 20 This Week!
The 2020 summer movie season looks unlike any in recent memory. With so few new theatrical releases to keep us occupied as we spend so much time indoors, it's important to know what folks are watching, binging and enjoying at home these days! With that in mind, DEG: The Digital Entertainment Group's latest 'Watched at Home Top 20' list is the perfect resource to help you figure out what to watch as we head into the new weekend!
 
DEG: The Digital Entertainment Group compiles the 'Watched at Home Top 20' list with the most popular titles consumed on disc and digital during the previous week (except for outside subscription-based streaming platforms). Compiled weekly with the most up to date studio and retailer data, it showcases current consumer enthusiasm for home viewing of the newest movie releases.
 
Please see below for the May 28 'Watched at Home Top 20' list:
1. Sonic the Hedgehog (Paramount)
2. Birds of Prey: Harley Quinn (WB)
3. Onward (Disney)
4. Bad Boys for Life (Sony)
5. Bloodshot (Sony, 2020)
6. Justice League Dark: Apokolips War (WB)
7. The Call of the Wild (Disney, 2020)
8. Fantasy Island (Sony, 2020)
9. Jumanji: The Next Level (Sony)
10. The Gentlemen (STX/Universal, 2019)
11. I Still Believe (Lionsgate)
12. 1917 (Universal)
13. Dolittle (Universal)
14. The Invisible Man (Universal, 2020)
15. Emma (Universal, 2020)
16. Star Wars: Ep. IX – Skywalker (Disney)
17. The Way Back (WB, 2020)
18. Spies in Disguise (Fox)
19. Ford v Ferrari (Fox)
20. Knives Out (Lionsgate)

Source | DEG: The Digital Entertainment Group
Includes U.S. Digital Sales, Digital Rentals (VOD), DVD & Blu-ray for week ended 5.23.20
"Weathering With You" comes to digital on 8/4, Blu/DVD/Steelbook on 9/15, from GKIDS and Shout! Factory
The extraordinary new animated film Weathering With You will be available to purchase digitally on August 4 , 2020, and on September 15 will arrive on Blu-ray™ + DVD, and SteelBookTM format from GKIDS and Shout! Factory. In addition, a limited edition Collector's Set will also be released in November.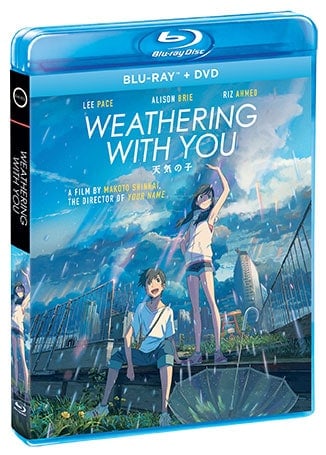 GKIDS proudly presents the highly-anticipated new film from director Makoto Shinkai and the creative team, including producer Genki Kawamura, behind the critically-acclaimed, global smash hit Your Name. Featuring music from the hit band RADWIMPS, and backed by an all-star voice cast including Lee Pace (Guardians of the Galaxy, The Hobbit Trilogy), Alison Brie ("GLOW", The Lego Movie franchise), and Riz Ahmed (Rogue One: A star Wars Story, Venom), Shinkai has once again brought incredible beauty and a powerful story to the screen. 

The summer of his high school freshman year, Hodaka runs away from his remote island home to Tokyo, and quickly finds himself pushed to his financial and personal limits. The weather is unusually gloomy and rainy every day, as if to suggest his future. He lives his days in isolation, but finally finds work as a writer for a mysterious occult magazine. Then one day, Hodaka meets Hina on a busy street corner. This bright and strong-willed girl possesses a strange and wonderful ability: the power to stop the rain and clear the sky…

Japan's Official Submission for Best International Feature at the 92nd Academy Awards, and a  Toronto International Film Festival Official Selection, this magical tale's awe-inspiring beauty thrilled audiences when the film hit North American theaters in early 2020. 

Available on Blu-ray™/DVD combo, DVD, SteelBookTM and on EST/VOD, Weathering With You is now available for pre-order.

Blu-ray™ and SteelBook™ Bonus Features:  • Talk Show: Makoto Shinkai and Yumiko Udo • "Weather Front" Featurette • Exploring Makoto Shinkai's Filmography • Theatrical Trailers and TV Spots

DVD Bonus Features • "Weather Front" Featurette • Exploring Makoto Shinkai's Filmography • Theatrical Trailers and TV Spots

Specific details on the Collector's Edition will be announced shortly.
Arrow Video Channel Announces June Titles for Subscribers
Arrow Video is excited to announce the June rollout of titles on their subscription-based Arrow Video Channel, including the exclusive debut of Miguel Llansó's Jesus Shows You the Way to the Highway.  A hit on the international festival circuit, the film boasts an Irish-accented Joseph Stalin, a kung-fu-fighting Batman, a mix of Afro-futurism, Cold War paranoia, Lynchian surrealism, the dystopian world of Philip K. Dick and 60s exploitation cinema.  
Jesus Shows You the Way to the Highway will be available June 1st exclusively on the Arrow Video Channel in the US and the UK. 
Additional new titles available June 1st include The Woman (UK/US), Bloodtide (UK/US), Dream Demon (UK/US), White Fire (UK/US) and The Stuff (US).  The Arrow Video Channel is available on Apple TV in the UK and US, as well as on Amazon in the UK. 
Blue Underground Brings the 4K and Blu-ray Home Entertainment on August 25th, 2020
I could post the sell sheets and related junk they sent, so I'm just going to include trailers and a few pieces of home entertainment art. After all, home entertainment releases often come with a lot of technical sales pitchy stuff. Let's just show off the releases.