Angel Has Fallen arrives on Digital 11/12 and on 4K Ultra HD, Blu-ray, DVD, and On Demand 11/26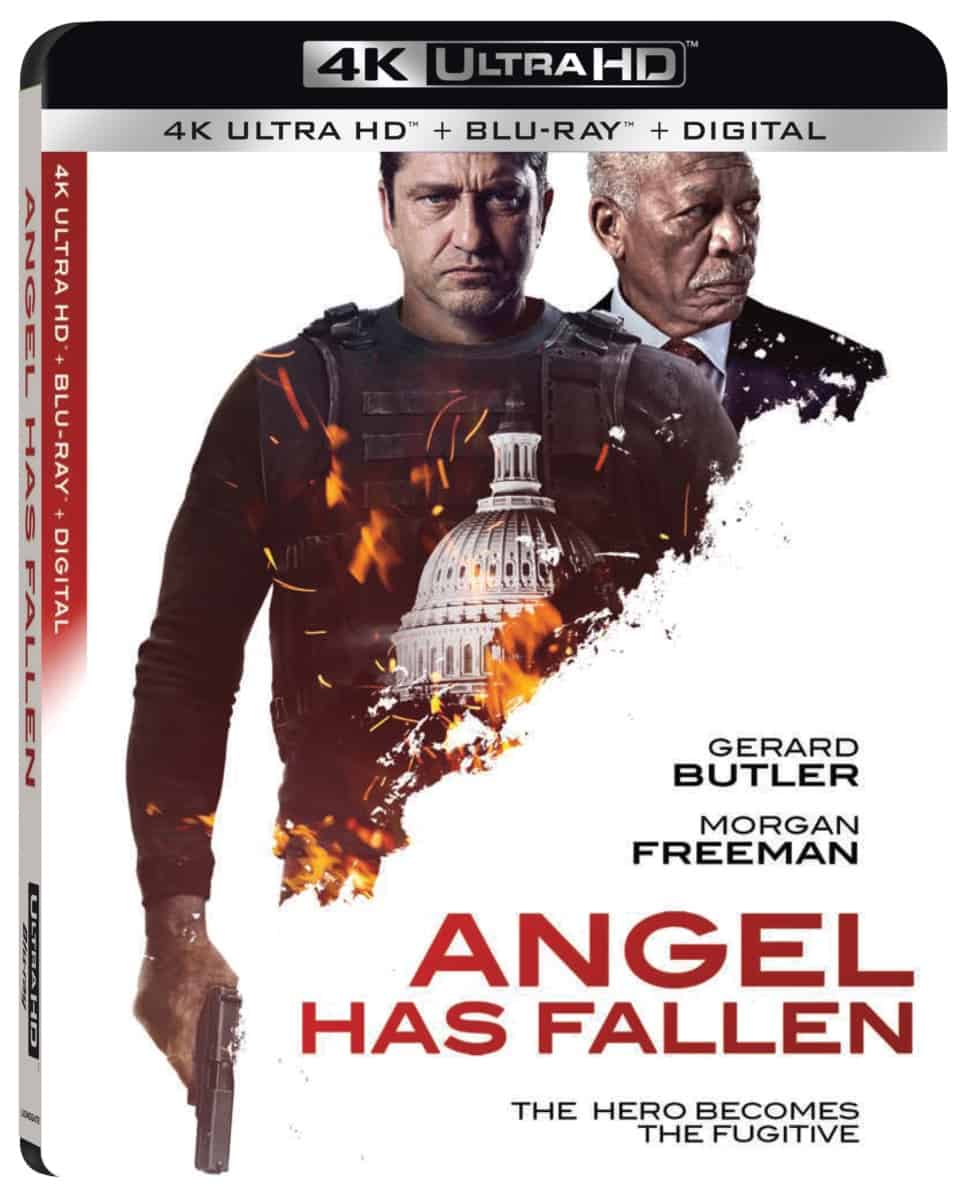 The latest stand-alone installment of the full-throttle Has Fallen action series comes home when Angel Has Fallen arrives on Digital November 12 and on 4K Ultra HD™ Combo Pack (plus Blu-ray and Digital), Blu-ray™ Combo Pack (plus DVD and Digital), DVD, and On Demand November 26 from Lionsgate. Filled with edge-of-your-seat action set pieces, explosive moments, and jaw-dropping hand-to-hand combat, the franchise is "bigger and badder than ever" (Andrew Freund, Dish Nation – FOX TV).
The film stars Gerard Butler (300, Law Abiding Citizen, The Bounty Hunter), Oscar® winner Morgan Freeman (2005, Million Dollar Baby, Best Supporting Actor), Jada Pinkett Smith (Collateral, The Matrix Revolutions, TV's "Red Table Talk"), Lance Reddick (John Wick franchise, White House Down, Jonah Hex), Tim Blake Nelson (Leaves of Grass, Fantastic Four, The Ballad of Buster Scruggs), Oscar® nominee Nick Nolte (1992, The Prince of Tides, Best Actor; 1999, Affliction, Best Actor; 2012, Warrior, Best Supporting Actor), and Danny Huston (The Constant Gardner, TV's "Yellowstone"). Story by Creighton Rothenberger & Katrin Benedikt, written for the screen by Robert Mark Kamen and Matt Cook & Ric Roman Waugh, and directed by Ric Roman Waugh.
When there is an assassination attempt on U.S. President Allan Trumbull (Morgan Freeman), his trusted confidant, Secret Service Agent Mike Banning (Gerard Butler), is wrongfully accused and taken into custody. After escaping from capture, he becomes a man on the run and must evade his own agency and outsmart the FBI in order to find the real threat to the president. Desperate to uncover the truth, Banning turns to unlikely allies to help clear his name, keep his family from harm, and save the country from imminent danger.
Take home Angel Has Fallen and immerse yourself in the action-packed world with exclusive special features, including six never-before-seen making-of featurettes, which breakdown what it took to make this explosive film. Experience four times the resolution of full HD with the 4K Ultra HD Combo Pack, which includes Dolby Vision, bringing entertainment to life through ultra-vivid picture quality.
When compared to a standard picture, Dolby Vision can deliver spectacular colors never before seen on a screen, highlights that are up to 40 times brighter, and blacks that are 10 times darker. Additionally, the 4K Ultra HD Combo Pack features Dolby Atmos, which will transport viewers from an ordinary moment into an extraordinary experience with moving audio that flows all around them. Fans will feel like they're inside the action as the sounds of people, places, things, and music come alive with breathtaking realism and move throughout the space.
The Angel Has Fallen 4K Ultra HD Combo Pack, Blu-ray Combo Pack, and DVD will be available for the suggested retail price of $42.99, $39.99, and $29.95, respectively.
4K UHD / BLU-RAY / DVD / DIGITAL SPECIAL FEATURES
"Even Angels Fall: The Story" Featurette
"Someone to Watch Over Me: New Blood" Featurette
"Calling All Angels: Casting" Featurette
"True Faith: Authenticity" Featurette
"Fight for You: Stunts and Action" Featurette
"Earth Angel: Recreating DC" Featurette
"Angel Declassified" 3-Part Audio Commentary with Director Ric Roman Waugh
BLUE UNDERGROUND New Release Announcement – December 17, 2019
Our recent 4K Restorations, available on DVD for the first time this December!
Maniac and Zombie getting that stellar treatment.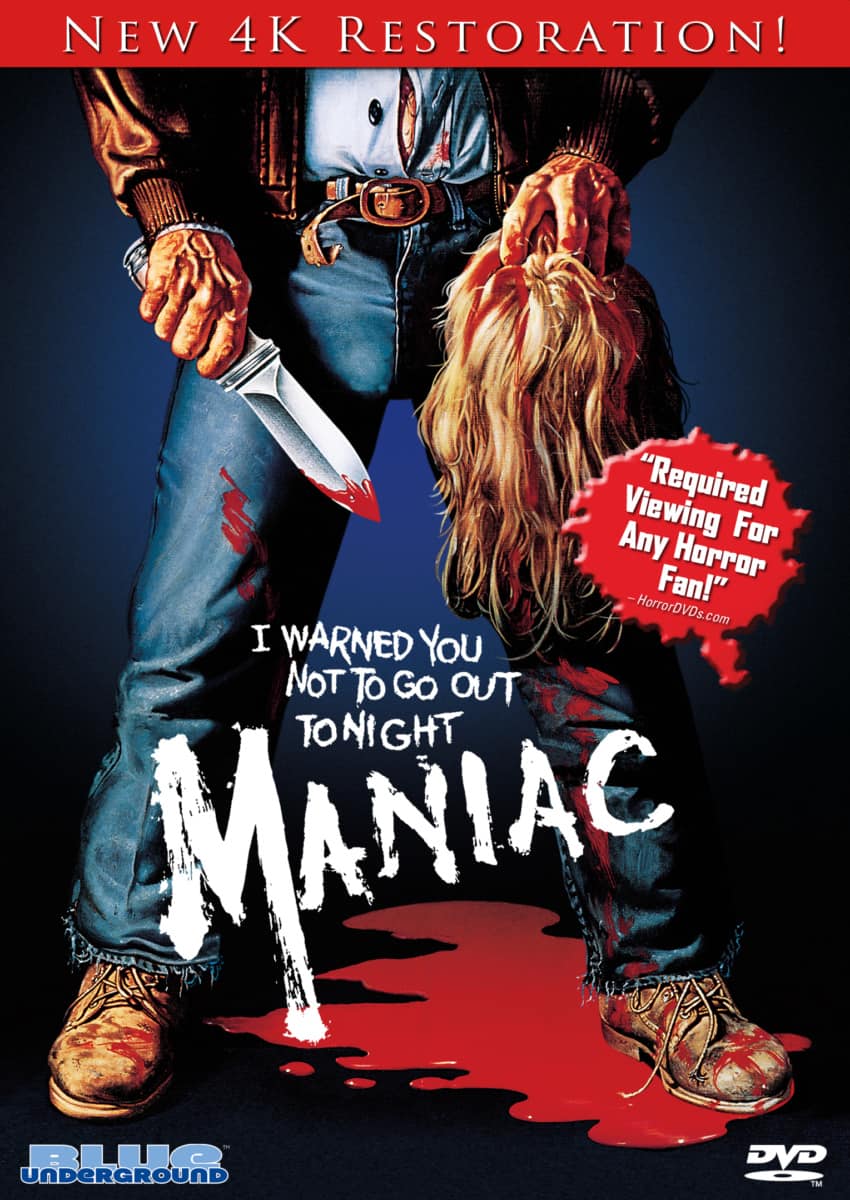 Holiday Special "How to Train Your Dragon Homecoming" To Air on NBC Dec. 3 at 8:30 PM ET/PT
"How to Train Your Dragon Homecoming," a half-hour animated special that brings the beloved characters of DreamWorks Animation's critically acclaimed "How to Train Your Dragon" film trilogy back together for the holidays, is set to premiere this holiday season on NBC on Dec. 3, 2019, at 8:30 PM ET/PT.
"How to Train Your Dragon Homecoming" will feature the return of Jay Baruchel as the voice of Hiccup, America Ferrera as Astrid, Gerard Butler as Stoick, Craig Ferguson as Gobber, and Christopher Mintz-Plasse as Fishlegs. Taking place just before the emotional epilogue from the last installment of the film trilogy – and 10 years after the end of "How to Train Your Dragon: The Hidden World" – "How to Train Your Dragon Homecoming" opens with Hiccup and Toothless sharing stories of their special relationship with their respective families as they prepare for the Snoggletog Festival.
When it becomes clear that the new generation of Vikings doesn't remember the bond between dragon and human, Hiccup makes a plan to celebrate dragons with a grand holiday pageant. This heartwarming idea leads to a series of hilarious and exciting events, but no matter the circumstance, everyone in New Berk – young and old alike – is reminded that dragons and humans are forever bonded.
DreamWorks Animation's "How to Train Your Dragon" film trilogy has earned more than $500 million domestically, including a $55 million opening weekend for the third film when it was released in February.
"How to Train Your Dragon Homecoming" also will be available on DVD Dec. 3, 2019, and on Digital Dec. 4, 2019, from Universal Pictures Home Entertainment. The Digital and DVD versions come packed with special bonus features, including an inside look at the animation test featuring the breakout stars of the holiday special, the baby dragons known as Night Lights.
"How to Train Your Dragon Homecoming" will be available on Hulu beginning Dec. 5, 2019.
The holiday special is directed by Tim Johnson (Home, Antz), written by Jonathan Groff (black-ish) and Jon Pollack (Modern Family), and associate produced by Craig Rittenbaum (DreamWorks Dragons).
movieSPREE ANNOUNCES LAUNCH OF ULTRA Q & ULTRAMAN SERIES TO PURCHASE AND STREAM
The recently launched transaction-based streaming service movieSPREE is pleased to announce the availability of ULTRA Q and the iconic ULTRAMAN TV series to purchase and stream exclusively in high-definition on movieSPREE's website and apps!  Both series are available to purchase and add to your movieSPREE library for $29.99 each.  You can also watch a free 10-minute SPREEview of the first episodes of ULTRA Q and ULTRAMAN here:  https://www.moviespree.com/ultraman
The original series ULTRA Q was one of the most expensive television series ever produced in Japan and a raging success.  Originally airing in 1966, it spawned a revolution in "Ultra" content that has seen series after series, movies and merchandising created; and originated a landmark global phenomenon.
The classic ULTRAMAN live television series of the 1960s and 70s, produced by Tsuburaya Productions, established new heights of quality adventure and special effects-driven entertainment and built a worldwide audience for the property. Hailing from the distant Nebula M78, Ultraman is a sleek silvery being who protects Earth and the human race from an endless array of invading aliens and terrifying monsters together with the crew of the Earth-based defense force using advanced high-tech weapons and vehicles. Ultraman battles monsters that cause endless mayhem and destruction on Earth. With the ability to extend his height to over 150 feet, Ultraman melds with a human and only emerges in times of extreme danger to save people and the Earth