Daughters of Darkness and Dead & Buried are getting 4K UHD standard editions from Blue Underground. Not a ton has changed, except you lose a select amount of the Limited Edition perks. Want to learn more? Watch below!
DAUGHTERS OF DARKNESS (1971) – Restored 1080p HD Movie Trailer – Blue Underground from Blue Underground on Vimeo.
Also, don't forget to check out our Daughters of Darkness and Dead & Buried 4K UHD reviews.
Some background on the movies getting Blue Underground 4K UHD standard editions
Daughters of Darkness: A Mesmerizing and Shocking Psychosexual Horror Film
International screen icon Delphine Seyrig, known for her iconic role in "Last Year at Marienbad," stars in "Daughters of Darkness" as Elizabeth Bathory, an ageless Countess with a young and beautiful 'companion' played by Goth goddess Andrea Rau. Together, they possess a legendary legacy of perversion. However, when the two women seduce a troubled newlywed couple – played by Canadian beauty Danielle Ouimet and John Karlen of "Dark Shadows" and "Cagney & Lacey" fame – they unleash a frenzy of sudden violence and depraved desire that shocks both art house audiences and grindhouse crowds worldwide.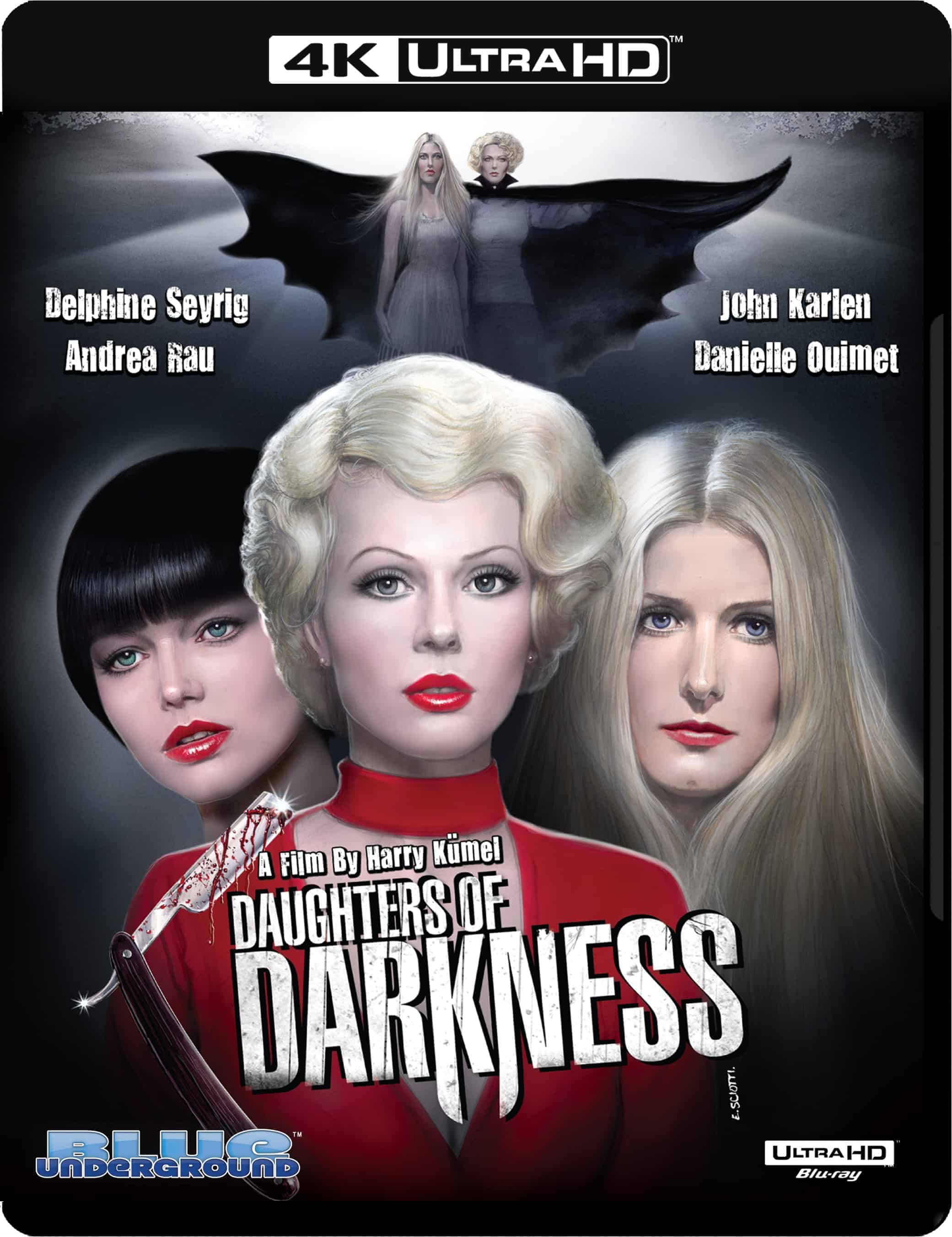 Co-written and directed by Harry Kümel, "Daughters of Darkness" remains one of the most exquisitely mesmerizing adult horror films ever made. Blue Underground is now proud to present the uncensored Director's Cut of this classic psychosexual shocker in a stunning restoration. The film has been scanned in 4K 16-bit from its long-lost original 35mm camera negative and features Dolby Vision HDR and a new Dolby Atmos audio mix. The restoration is packed with revealing Extras, making it a must-have for horror film enthusiasts.
With its mesmerizing and shocking story, stunning performances by a talented cast, and brilliant direction, "Daughters of Darkness" has become a classic in the horror genre. The film's exploration of psychosexual desire and perversion still resonates with audiences today, making it just as relevant and powerful as it was upon its initial release.
Don't miss out on the chance to experience the uncensored Director's Cut of this iconic film in all its restored glory. "Daughters of Darkness" is a must-see for horror fans and cinephiles alike, and it will leave you spellbound and shaken to your core.
Dead & Buried is a murky film with its best elements mined for Tarantino movies. Still, Gary Sherman makes amazing movies.