BEST PICTURE ESSENTIALS 10-MOVIE COLLECTION arrives on Blu-ray March 23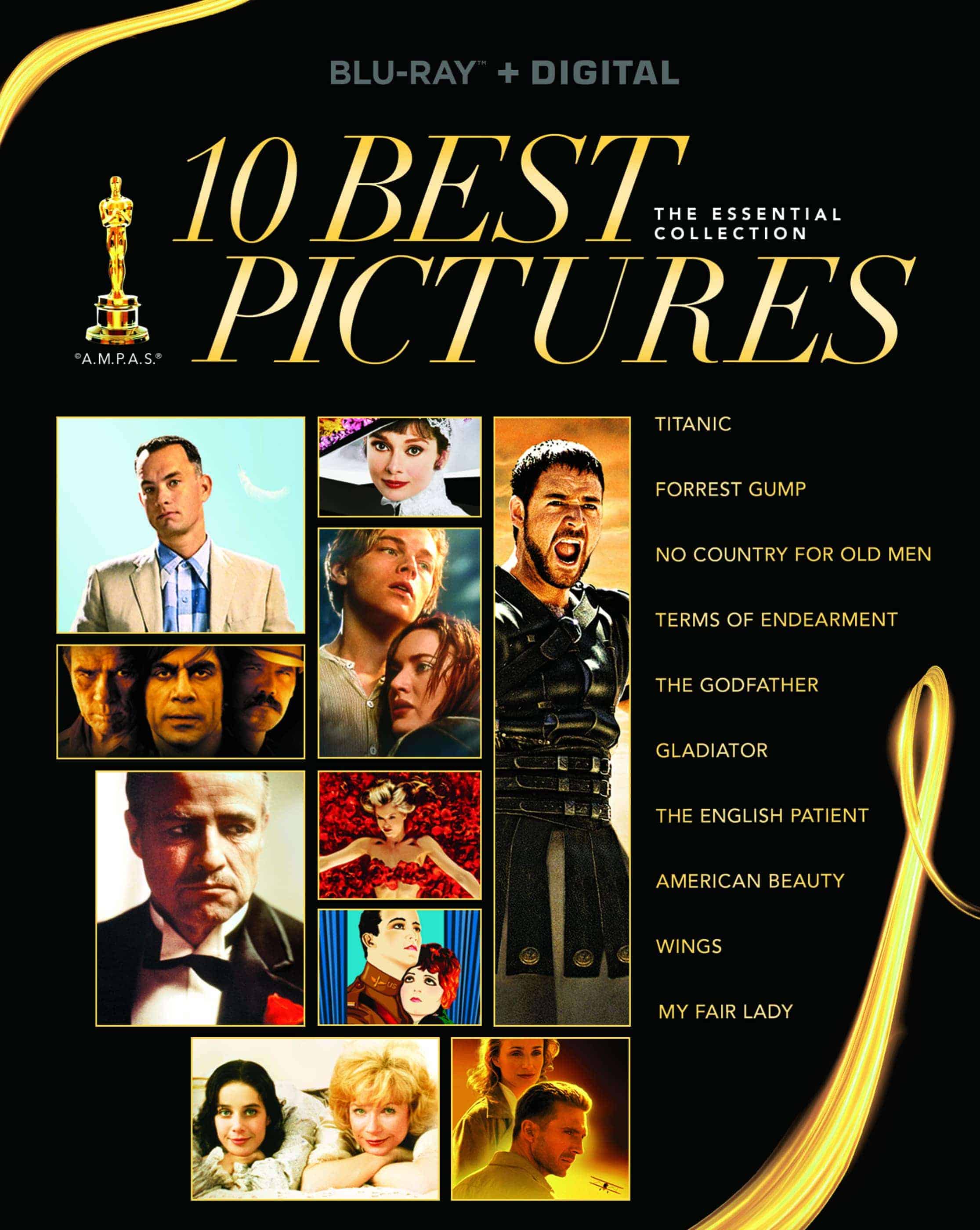 Revisit 10 of the most celebrated films in cinema history, together for the first time, in the BEST PICTURE ESSENTIALS 10-MOVIE COLLECTION, arriving on Blu-ray March 23, 2021 from Paramount Home Entertainment.
A must-own set for film fans and ideal entertainment in preparation for this year's Academy Awards ceremony, the BEST PICTURE ESSENTIALS 10-MOVIE COLLECTION includes an array of landmark films, each of which earned the prestigious Best Picture Oscar.
Along with access to a digital copy of each film, the Blu-ray collection includes the following in high definition:
Wings (1927)
My Fair Lady (1964)
The Godfather (1972)
Terms of Endearment (1983)
Forrest Gump (1994)
The English Patient (1996)
Titanic (1997)
American Beauty (1999)
Gladiator (2000)
No Country For Old Men (2007)
These 10 unforgettable films feature star-making and award-winning performances from actors including Audrey Hepburn, Rex Harrison, Marlon Brando, Al Pacino, Shirley MacLaine, Debra Winger, Jack Nicholson, Tom Hanks, Ralph Fiennes, Juliette Binoche, Kristin Scott Thomas, Leonardo DiCaprio, Kate Winslet, Russell Crowe, Joaquin Phoenix, Javier Bardem, and more.
Cecil B. DeMille's THE GREATEST SHOW ON EARTH debuts on Blu-ray March 30th
Legendary director Cecil B. DeMille's grand spectacle THE GREATEST SHOW ON EARTH arrives for the first time on Blu-ray as part of the Paramount Presents line on March 30, 2021 from Paramount Home Entertainment.
A two-time Academy Award-winner*–including Best Picture and Best Writing, Motion Picture Story–THE GREATEST SHOW ON EARTH captures the thrills, chills and exhilaration of the circus. Featuring three intertwining plotlines filled with romance and rivalry, DeMille's film includes spectacular action sequences, including a show-stopping train wreck. THE GREATEST SHOW ON EARTH also boasts a sensational cast, including Betty Hutton, Cornel Wilde, Charlton Heston, Dorothy Lamour, Gloria Grahame, and James Stewart.
Newly restored from a 4K scan of the original negative, this essential movie of the Golden Age of Hollywood packs action, romance, laughs and treachery into an epic only DeMille could create, resulting in one of 1952's biggest hits.
The limited-edition Paramount Presents Blu-ray Disc™ includes the newly restored film in collectible packaging with a foldout image of the film's theatrical poster and an interior spread with key movie moments. THE GREATEST SHOW ON EARTH Blu-ray also includes a new Filmmaker Focus with film historian Leonard Maltin, exploring the making of the film and its reception, as well as access to a Digital copy of the film.
About Paramount Presents
This collectible line spans celebrated classics to film-lover favorites, each from the studio's renowned library. Every Paramount Presents release features never-before-seen bonus content and exclusive collectible packaging. There are 14 additional titles available in the Paramount Presents collection: Fatal Attraction, King Creole, To Catch a Thief, Flashdance, Days of Thunder, Pretty In Pink, Airplane!, Ghost, Roman Holiday, The Haunting, The Golden Child, Trading Places, The Court Jester and Elizabethtown.
THE FINAL COUNTDOWN GETS A 4K/BLU RELEASE on April 27th from Blue Underground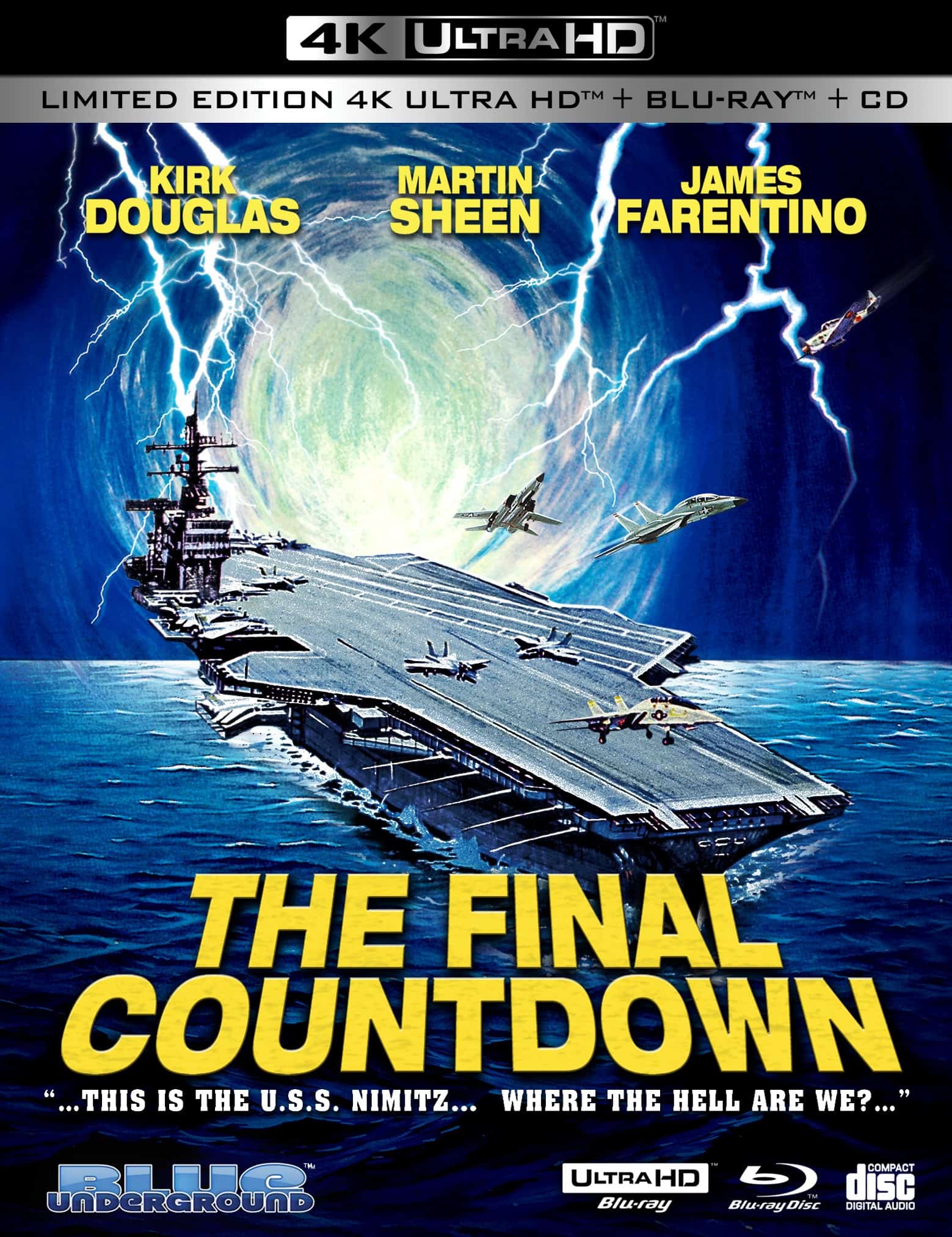 Trapped outside the boundaries of time and space – 102 aircraft… 6,000 men… all missing.
The time is now. The place is aboard the U.S.S. Nimitz, America's mightiest nuclear-powered aircraft carrier on maneuvers in the Pacific Ocean. Suddenly, a freak electrical storm engulfs the ship and triggers the impossible: The Nimitz is hurtled back in time to December 6, 1941, mere hours before the Japanese attack on Pearl Harbor.
As the enemy fleet speeds towards Hawaii, the warship's Captain (Kirk Douglas), a Defense Department expert (Martin Sheen), a maverick Air Wing Commander (James Farentino) and a desperate Senator in the Roosevelt administration (Charles Durning) must choose between the unthinkable. Do they allow the Japanese to complete their murderous invasion, or launch a massive counterstrike that will forever change the course of history?
Katharine Ross and Ron O'Neal co-star in this spellbinding sci-fi action hit filmed on location aboard the U.S.S. Nimitz with the full participation of the U.S. Navy and the ship's crew. Now Blue Underground is proud to present THE FINAL COUNTDOWN in a stunning new restoration, scanned in 4K 16-bit from the original 35mm camera negative, with Dolby Vision HDR and Dolby Atmos audio, for the ultimate in explosive home theater excitement!