THE BLOOD OF FU MANCHU / THE CASTLE OF FU MANCHU REVIEWED
"The Blood of Fu Manchu" is an odd film. Odd in the sense that the special guest star was nothing more than unused footage from "The Girl from Rio". What makes it odder was that you could kinda tell that Christopher Lee wanted this series to end. So, why did Jess Franco force two final movies within a year's time? That's like asking why this 5-Film Series shot on the run from Europe to the Shaw Brothers studios. Even back then, Fu Manchu was too pulpy for most to handle. So, why bother?
"The Castle of Fu Manchu" closes the door on this series and provides the only real answer for its existence. This film sources even more stock footage from the earlier Fu Manchu films and "A Night to Remember". Some might ask how a color film sources footage from a Black & White movie? The answer is they tinted the older footage with a blue hue. Good times were had by all, except for Christopher Lee. At the time, the Fu Manchu makeup was practically mortician wax and a mustache.
From the amount of time that Lee is obviously not on camera to the final film's race to a conclusion, this film series became self-aware. It was almost like it could see a future where the Sax Rohmer source novels had disappeared from the mainstream. Where tiny waves of man-children would cry about anything that didn't fit their narrow world-view. Plus, Bond was doing all of this better. Pick up this release out of morbid curiosity.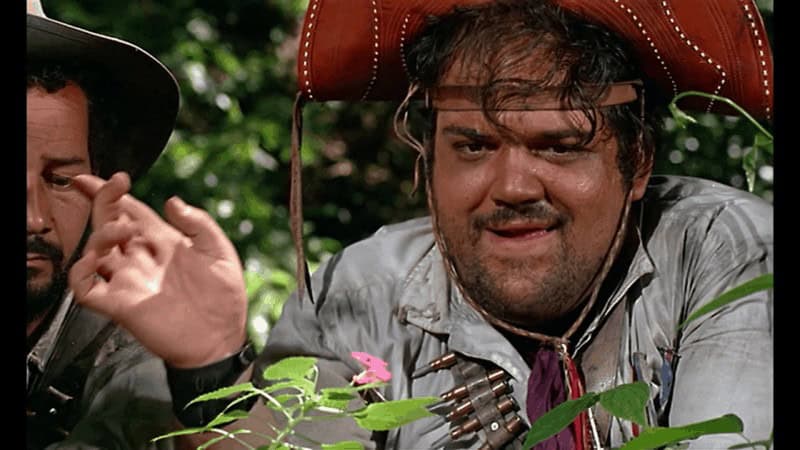 SPECIAL FEATURES
Interviews
Trailers
Poster & Still Galleries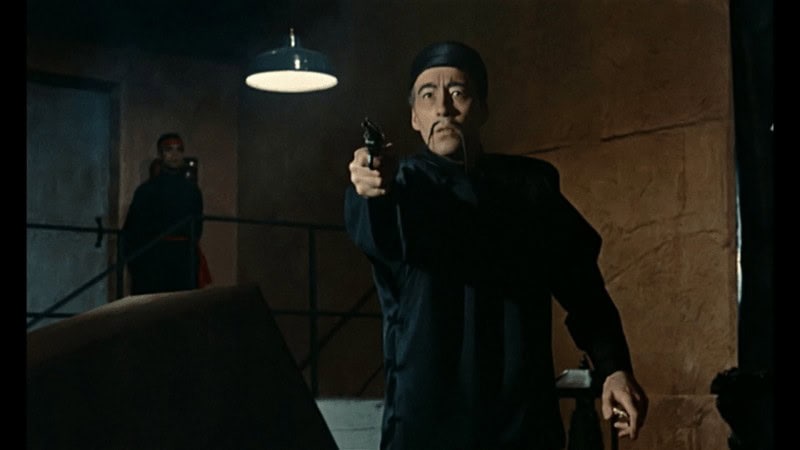 A/V STATS
1.66:1 1080p transfer
DTS-HD MONO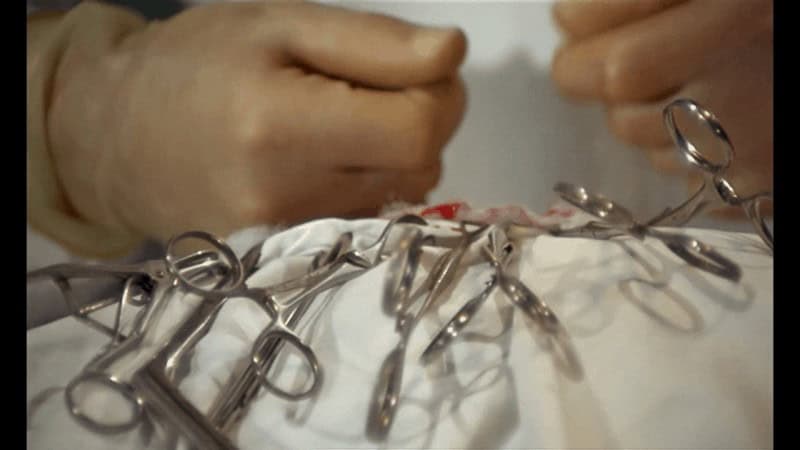 RELEASE DATE: OUT NOW!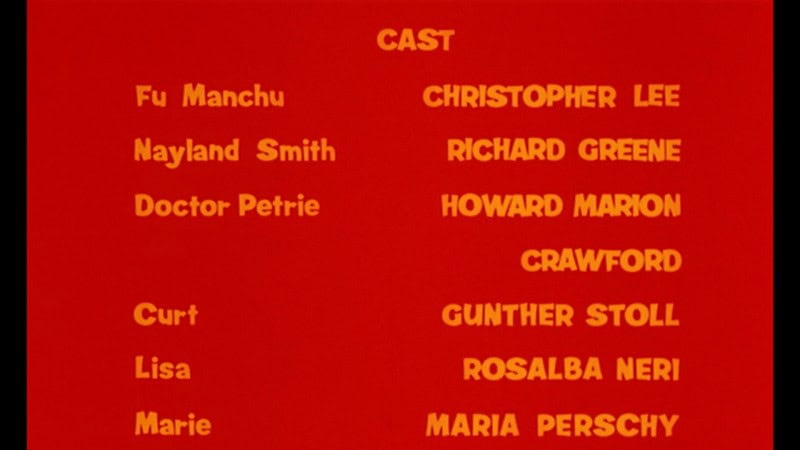 Video -

90%

Audio -

94%

Supplemental Material -

90%

Film Score -

88%
The Plot Thus Far
THE BLOOD OF FU MANCHU:
The Unrated European Version!
From his secret lair deep within the South American jungle, international super-villain Fu Manchu (Christopher Lee of COUNT DRACULA) and his sadistic daughter Lin Tang (Tsai Chin of YOU ONLY LIVE TWICE) reveal their latest diabolical plot for world domination: ten beautiful women are infected with an ancient poison so deadly that one kiss from their lips will bring instant death and lead to a global plague. Now the Asian madman's nemesis, Nayland Smith (Richard Greene of TALES FROM THE CRYPT), must desperately hunt an antidote in a savage land where rape and torture reign and the ultimate evil lies in THE BLOOD OF FU MANCHU.
Maria Rohm (VENUS IN FURS) and Shirley Eaton (GOLDFINGER) co-star in this wild Fu Manchu feature written and produced by Harry Alan Towers (EUGENIE) and directed by the one and only Jess Franco (VAMPYROS LESBOS). Also known as KISS AND KILL, AGAINST ALL ODDS, and KISS OF DEATH, Blue Underground presents THE BLOOD OF FU MANCHU in High Definition, complete with additional scenes of nudity and violence!
THE CASTLE OF FU MANCHU:
The Legendary Asian Crime Lord Is Back… And International Evil Has A Chilling New Home!
Christopher Lee (THE LORD OF THE RINGS) returns as the diabolical super-villain who, along with his sadistic daughter Lin Tang (Tsai Chin of CASINO ROYALE), creates a fiendish new chemical weapon that will turn the seas into a giant block of ice. But when his archenemy Nayland Smith (Richard Greene of THE ADVENTURES OF ROBIN HOOD) tracks the madman's trail of kidnapping, murder and massive global destruction, he himself becomes trapped in Fu Manchu's impenetrable lair of cruelty. Can any of the world's top secret agents (including a wild performance by Jess Franco) now stop the cold-blooded terror that lives in THE CASTLE OF FU MANCHU?
Maria Perschy (THE GHOST GALLEON) and Rosalba Neri (99 WOMEN) co-star in this notorious sequel directed by Jess Franco (THE BLOODY JUDGE) that marked Christopher Lee's final performance as the infamous Chinese madman. Now Blue Underground presents THE CASTLE OF FU MANCHU in High Definition, packed with Extras for a disc full of Fu Manchu mayhem!