The most delightfully deranged take on A Christmas Carol is coming home to 4K. Comedy legend Bill Murray's twisted holiday tale Scrooged celebrates its 35th anniversary in 2023 with a shiny new Ultra HD release.
Arriving on November 7 packed with exclusive new bonuses, this biting satire will deck your halls with big laughs and Yuletide cheer. Let's dive into why Scrooged on 4K Blu-ray is the perfect gift for cheeky holiday fans.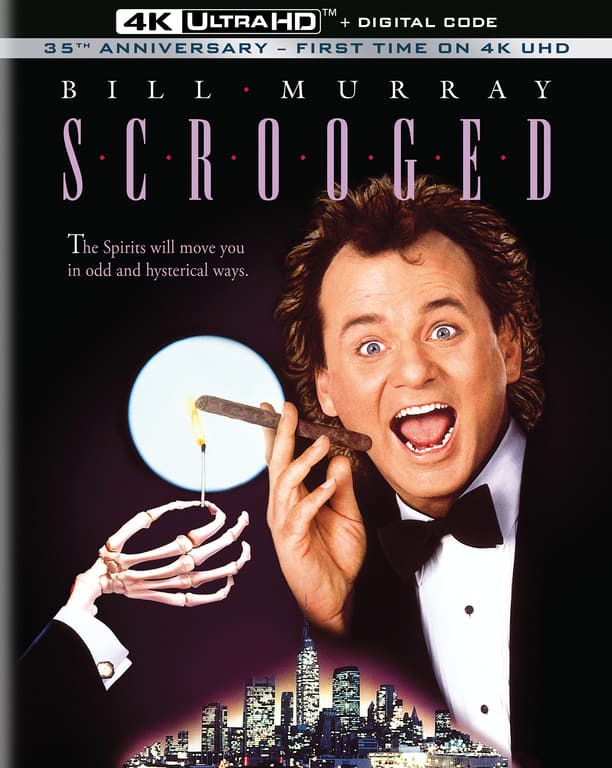 Murray's Manic Spin on Dickens
Released in 1988 to cheers and jeers, Scrooged energized the Christmas Carol template with Bill Murray's demented comic sensibilities. He plays heartless TV exec Frank Cross, whose live production of the Dickens tale sparks some ghostly visits.
Murray's manic energy makes Frank's journey from miserly to merry a wickedly fun ride. Imaginative special effects,splashy musical numbers, and an all-star cast including Karen Allen, Carol Kane, and Robert Mitchum add to the anarchic amusement.
While gleefully irreverent, the film retains the heartwarming message at the core of Dickens' classic. Scrooged endures as a perennial favorite because its spirit is so delightfully derailed.
Deck Your 4K Player This Season
After years stuck in VHS purgatory, holiday revelers can finally own Scrooged in spiffed-up quality. This 4K Ultra HD edition features a vibrant HDR-enhanced transfer that makes the paranormal hijinks pop like never before.
Upgrade your annual viewing party with this definitive version. See every manic glint in Murray's eyes, every garish thread of the ghostly costumes in eye-popping clarity.
50 Minutes of Never-Before-Seen Bonuses
Along with a sparkling image upgrade, this release comes stacked with new retrospective extras. Over 50 minutes of unearthed bonuses include Richard Donner's director commentary, on-set footage with Murray, and in-depth featurettes.
Rarely does a catalog title get lavished with such festive special features. These goodies let fans travel back in time through the film's creation and lasting legacy.
The Perfectly Inappropriate Stocking Stuffer
Stuff some extra merriment in your loved ones' stockings this season with Scrooged on 4K Blu-ray. With belly laughs galore and a 4K transfer that pops, it's perfectly packaged for spreading cheeky holiday cheer.
Let the ghosts of Christmas past, present and future take you on a demented journey when Scrooged arrives November 7.