Pre-Orders Now Open for the Epic WWII Film: Assault on Hill 400
Shout! Studios proudly announces the much-anticipated release of the cinematic masterpiece, Assault on Hill 400, on Blu-ray™ starting August 1, 2023. This high-definition portrayal of one of the most crucial and enduring battles of World War II, based on true events, is now available for pre-order. You can secure your copy today from Shout! Studios, Amazon, and other leading retailers.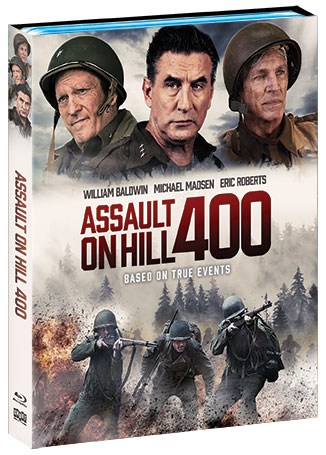 Relive the Historic Siege of Bergstein
The narrative unfolds on November 14, 1944, as the 2nd Ranger Battalion embarks on a mission to capture the German town of Bergstein, and its coveted strategic position — Hill 400. Serving as a vantage point for the Third Reich's devastating artillery units, the mission to capture the Hill is paramount.
Assault on Hill 400 has a Star-Studded Cast
Assault on Hill 400, an exhilarating World War II action-drama, boasts a star-studded cast including William Baldwin (Backdraft, Sliver), Michael Madsen (The Hateful Eight, Reservoir Dogs), and Eric Roberts (Runaway Train, The Pope Of Greenwich Village).
Exciting Special Features
In addition to the thrilling main feature, the Blu-ray™ edition of Assault on Hill 400 includes exclusive special features such as a Trailer and an Image Gallery for fans to explore.
Who doesn't love The Asylum?
As one of the world's premier brand-oriented motion picture and television studios, The Asylum has a track record of delivering high-concept, market-driven entertainment. Known for the SHARKNADO franchise and the popular BLACK SUMMER and Z NATION TV series, The Asylum finances, produces, and releases 25 films annually via its direct distribution channels and network of global partners.
Since its inception in 1997, The Asylum has released over 500 films and accumulated a library of over 300 original productions. These include top-rated programs for Netflix, Tubi, SYFY, Lifetime, Ion Television, Animal Planet, and other esteemed platforms such as Hallmark Channel, Sony Television, BET, Universal TV, and more.
The Asylum's post-apocalyptic thriller BLACK SUMMER was the most-watched scripted series on Netflix upon its release. Its highly acclaimed action-horror series, Z NATION, remains one of SYFY's longest-running and highest-rated shows. Now, THE ASYLUM MOVIE CHANNEL, garnering over two million hours of viewership per month, ranks among the top-rated OTT entertainment networks.