ARROW Announces April Lineup, Goes to the Heart of Filmmaking with CLAPBOARD JUNGLE & Other Docs
Arrow Video is excited to announce the April 2021 lineup of their new subscription-based ARROW platform, available to subscribers in the US, Canada and the UK.
The April lineup is anchored by the April 19 release of Justin McConnell's Clapboard Jungle. "An insightful and engaging look at the trials and tribulations of indie genre filmmaking" (Daily Dead), Clapboard Jungle follows filmmaker Justin McConnell through five years of getting his latest feature off the ground, warts and all.

McConnell enlisted an impressive number of directors and producers to share their ups and downs, including Guillermo del Toro, Mick Garris, Paul Schrader, Lloyd Kaufman, George Romero, Frank Henenlotter, Heather Buckley, Jovanka Vuckovic, Justin Benson & Aaron Moorhead, Travis Stevens, Izzy Lee and Graham Skipper, among others.

Clapboard Jungle streams on ARROW in the US and the UK, while only the extras for the feature will be available in Canada.

ARROW Stories will be home to a host of over 50 exclusive extras for Clapboard Jungle, including short films, deleted scenes almost 30 extended interviews with filmmakers.
April 1 Arrow will see the arrival of Justin McConnell's Skull World, Death Has Blue Eyes, Switchblade Sisters and ARROW heads to Japan for the Takeshi Kitano Collection, featuring Violent Cop and Boiling Point.

April 5 ARROW Essentials: Westerns will debut with Django and Django, Prepare a Coffin as focus releases.

April 9 Arrow sticks to the behind-the-scenes theme with Keeping it Reel, documentaries that take audiences behind the curtain of making and releasing indie genre films, home grown horror and more. Titles include: VHS Lives!, Nightmares in Red White and Blue and That Guy Dick Miller.

April 12 serves up gristle and gore on the menu as ARROW debuts Bad Meat and Slaughterhouse alongside a collection of early shorts from Clapboard Jungle director Justin McConnell featuring Damned Selfie, Open Invitation and Cat, Lover.

April 16 brings audiences Marina Sargenti's demonic Mirror Mirror and a second collection of shorts – Do you See What I See? and Soul Contact – from Justin McConnell.

Also coming in April: Video Nasties: Moral Panic, Censorship and Videotape and Video Tape Nasties: Draconian Days.
ARROW Essentials curates collections based on genre, decades and themes; and ARROW Stories takes a fresh look at the world of film and TV with exclusive documentaries, interviews and video essays diving deeper into the many curated seasons and titles on the platform for a richer and deeper viewing experience.

With a slickly designed and user-friendly interface, and an unparalleled roster of quality content from westerns to giallo to Asian cinema, trailers, Midnight Movies, filmmaker picks and much, much more, ARROW is the place to go for the very best in on-demand entertainment.
Navigating the current film business is more difficult than ever before. Rapidly changing technology and an overcrowded marketplace have led to an industry in which anyone can now make a film, but few can make a living.

Following five years in the life and career of independent filmmaker Justin McConnell (Lifechanger), this documentary explores the struggles of financing, attracting the right talent, working with practical effects and selling the finished product in the hope of turning a profit.

Featuring interviews with a range of industry luminaries – including Guillermo del Toro (Crimson Peak), Sid Haig (Spider Baby), Barbara Crampton (Re-Animator), Mick Garris ("The Stand"), Dick Miller (Matinee), Tom Holland (Fright Night) and George A. Romero (The Crazies), alongside a host of others – not only are technical aspects and interpersonal skills discussed but also the emotional stamina and little-known tips needed to survive in the low budget film industry.

A warts-and-all exploration of what it takes to get a film made and released, Clapboard Jungle serves as a survival guide for the modern independent filmmaker and offers a fascinating insight into a side of the industry with which few are likely to be familiar.
All this and more from Arrow Video this month!
Corinna Faith's Ghost Story "THE POWER" Set During London Blackouts | Premieres on Shudder April 8th
London, 1974. As Britain prepares for electrical blackouts to sweep across the country, trainee nurse Val (Rose Williams) arrives for her first day at the crumbling East London Royal Infirmary. With most of the patients and staff evacuated to another hospital, Val is forced to work the night shift, finding herself in a dark, near empty building.

Within these walls lies a deadly secret, forcing Val to face both her own traumatic past and deepest fears in order to confront the malevolent force that's intent on destroying everything around her.
Director's Statement "While I was writing the script, I read a good description of what a ghost story classically is; a disturbed spirit has an issue that a protagonist, usually female, needs to understand and solve. Then the spirit can rest in peace. This description resonated with me. I was already telling the story from a female point of view, and wanted the female experience to inform the horror elements.

But I was writing during the explosion of resistance to silence and passivity that came with the Me Too movement. And it felt like the landscape was changing to some extent. The idea that an angry spirit could neatly be put to rest, made quiet at the end of a story, felt plain wrong. This gave me an interesting trajectory. I realized while we were filming that we were telling a story about the silence of girls. Voices made quiet.

Then I realized, that without planning, I was telling the story of my journey to that moment too. It had taken many years, and changes in my own confidence and the confidence of the industry to get there. To allow my own voice to speak. Like the restless spirit, I've no intention of laying it to rest now."

Director: Corinna Faith
Writer: Corinna Faith
Starring: Rose Williams, Shakira Rahman, Charlie Carrick, Diveen Henry, Gbemisola Ikumelo, Nuala McGowan, Emma Rigby, Theo Barklem-Biggs
Producers: Rob Watson, Matthew James Wilkinson
Cinematography: Laura Bellingham
Editing: Tommy Boulding, Rebecca Lloyd
Running Time: 92 min
Enter the Depths of Despair With the New Loot Fright Crate!
Celebrate the creatures of the deep with the newest Loot Fright crate "Depths of Despair." If there's a monster below you and you can't see it, it's likely looking to kill you. This underwater crate of carnage is filled with exclusive collectibles and gear from your favorite "Surprise! You're dead!" films like Creature from the Black Lagoon, Jaws and Tremors.
The "Depths of Despair" crate will have you gasping your last breath with an exclusive Creature from the Black Lagoon T-Shirt, a Jaws Shot Glass, Jaws Chalkboard Pin and even a Call of Cthulhu Figure to add to your dread. There are even more exclusive items and collectibles waiting for you to unbox.
There's also Premium Add-On items available to order: a Lovecraft Series: The Shadow Over Innsmouth Screen Printed Poster!
The May Loot Fright crate must be ordered by May 15 at 9:00 pm PST. Loot Fright crates start at $28.95 plus shipping and handling. Supplies are limited and will sell out fast!
Hold your breath and subscribe to the Loot Fright crate!
http://loot.cr/LootFright
BARB AND STAR GO TO VISTA DEL MAR | Available Now on Digital
Take a trip and break out of your shell with Barb and Star. From the gals who brought you Bridesmaids (co-stars and co-writers Kristen Wiig and Annie Mumolo) comes BARB & STAR GO TO VISTA DEL MAR. Lifelong friends Barb and Star embark on the adventure of a lifetime when they decide to leave their small Midwestern town for the first time…ever. Romance, friendship and a villain's evil plot…Hold onto your culottes, BARB & STAR is available to own on digital today!
BARB & STAR GO TO VISTA DEL MAR will also arrive on Blu-ray™ Combo Pack and DVD April 6.
Lionsgate presents, a Lionsgate production, a Gloria Sanchez / Stellie production.
Hulu's "SASQUATCH" – A Myth and Murder Mystery Docuseries – exec. produced by the DUPLASS BROTHERS – Premiering APRIL 20
While visiting a pot farm in Northern California in 1993, investigative journalist David Holthouse heard a story that still haunts him: On a nearby farm three men were torn limb from limb in a savage Bigfoot attack. SASQUATCH follows David as he revisits the Redwoods 25 years later, in search of any evidence that might lead to the truth of what happened that night. As he pulls at the threads of this story, he'll be taken down a path that's far more terrifying than anyone would have imagined.

The series is directed by Joshua Rofé (Lorena, Swift Current) executive produced by Mark Duplass, Jay Duplass, and Mel Eslyn of Duplass Brothers Productions (Wild Wild Country, Evil Genius), Rofé and Steven Berger of Number 19, along with David Holthouse and Zach Cregger, and produced by M. Elizabeth Hughes.
THE RESORT | From EP Quavo, Starring Brock O'Hurn, Bianca Haase, Michael Vlamis, Michelle Randolph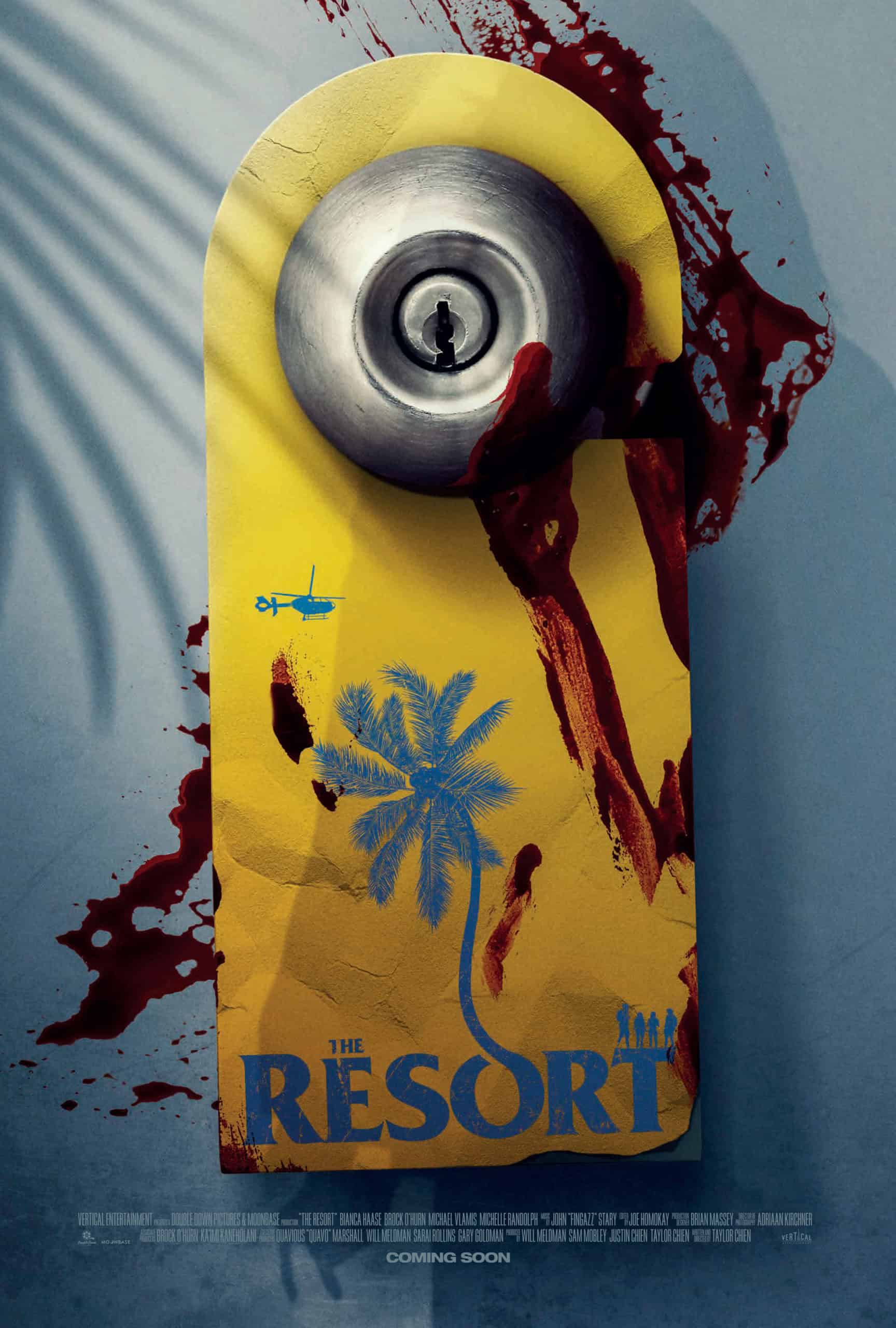 | | |
| --- | --- |
| Distributed By: | Vertical Entertainment |
| In Select Theaters & On Demand: | April 30, 2021 |
| Written & Directed By: | Taylor Chien |
| Produced By: | Will Meldman, Sam Mobley, Justin Chien, Taylor Chien |
| Starring: | Bianca Haase, Brock O'Hurn, Michael Vlamis, Michelle Randolph |
| Rating: | Not Yet Rated |
| Run Time: | 74 mins |
| Synopsis: | Four friends head to Hawaii to investigate reports of a haunting at an abandoned resort in hopes of finding the infamous Half-Faced Girl. When they arrive, they soon learn you should be careful what you wish for. |
"Bisexual Excellence" in New SHIVA BABY Trashy Trailer + Alt Poster — Opening Friday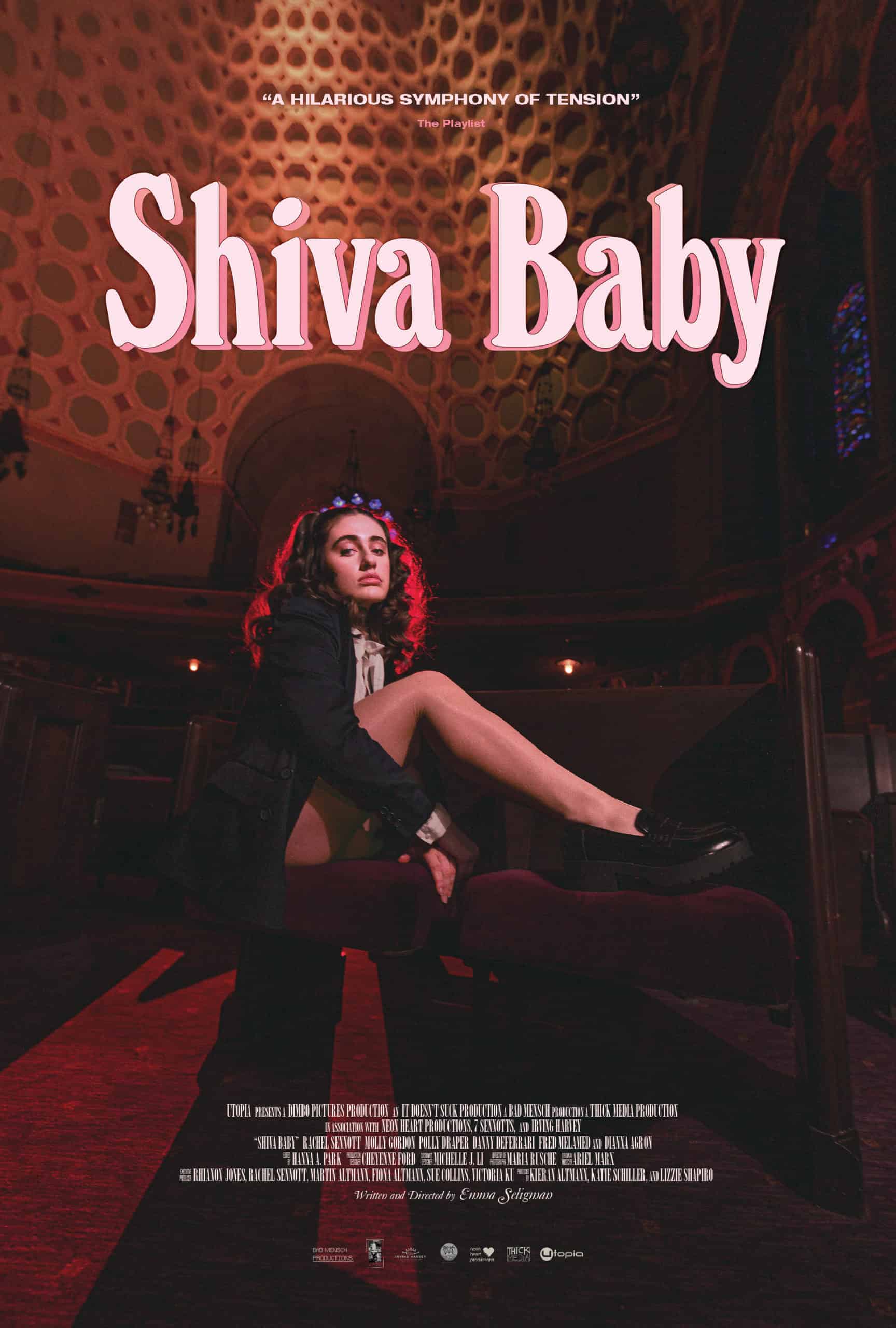 A near college graduate, Danielle, gets paid by her sugar daddy and rushes to meet her neurotic parents at a family shiva. Upon arrival, she is accosted by various estranged relatives about her appearance and lack of post-grad plans, while her confident ex-girlfriend, Maya, is applauded by everyone for getting into law school. Danielle's day takes an unexpected turn when her sugar daddy, Max, arrives at the shiva with his accomplished wife, Kim, and crying baby.
As the day unfolds, Danielle struggles to keep up different versions of herself, fend off pressures from her family and confront her insecurities without completely losing it.
The Seventh Day | Now Playing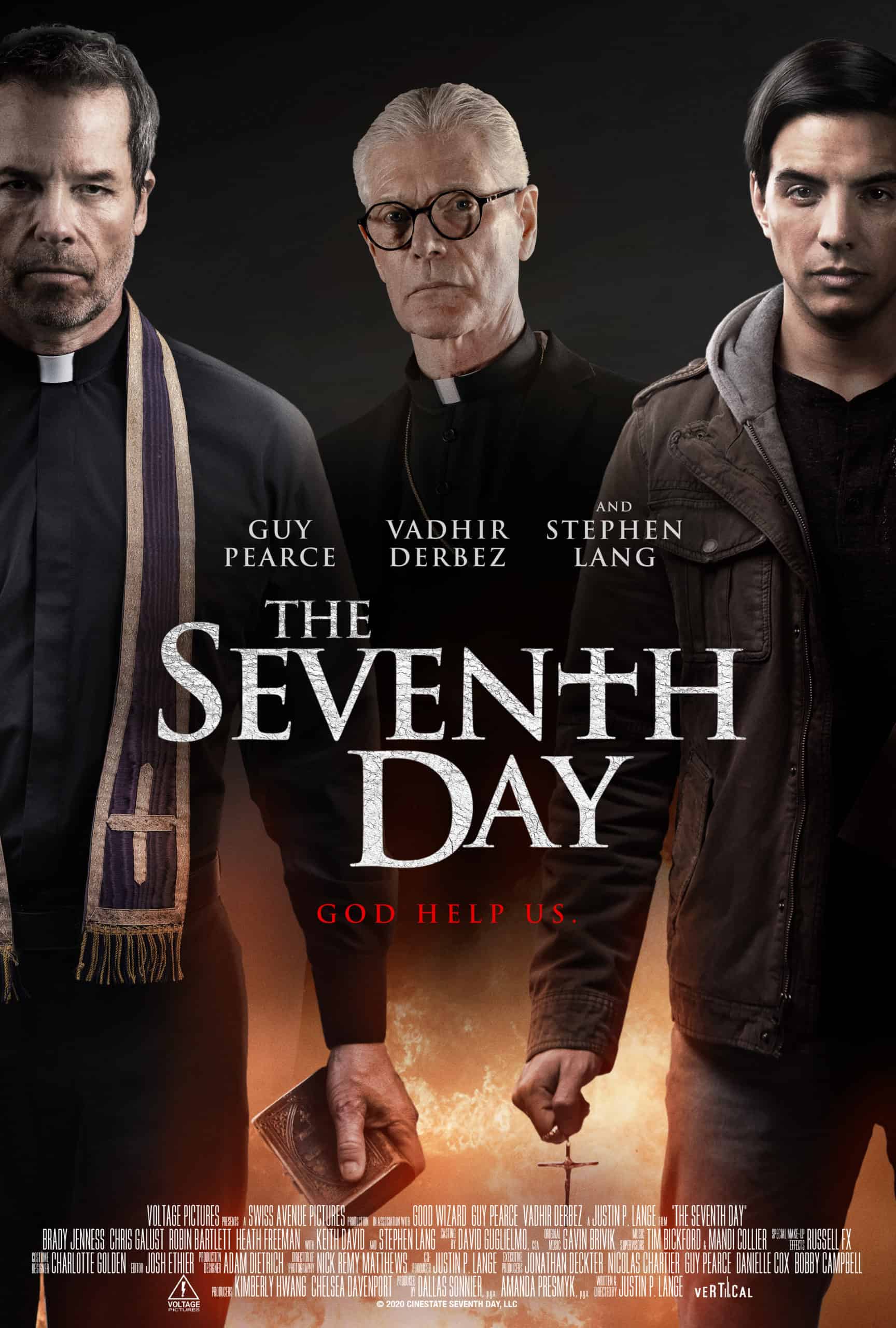 Don't get Salty in the new Loot Gaming Crate!
Why so salty? You've worked hard, beaten the game, and proclaimed victory! Now dry those tears with this month's "Salty" themed Loot Gaming crate. Whether you've taken that sweet helicopter ride of victory in Warzone's Battle Royale or sunk every pirate ship that dares cross your path, you won't feel crabby when you open this packed Gaming crate stocked with items from Sea of Thieves, Destiny, Call of Duty, and Conker's Bad Fur Day.
This month's Loot Gaming crate is filled with a vial of salty tears of exclusives including a Sea of Thieves T-shirt, a roll of Great & Mighty Poo TP, Call of Duty Warzone Keychain, Destiny Gambit Coins and more. There's even a premium Street Fighter add-on plush of Ken, Ryu or Chun-Li to keep you in for another round.
Loot Gaming crates sell out fast! To grab the "Salty" Loot Gaming crate filled with exclusives, be sure to order by April 27 at 9:00pm PST. Loot Crate Gaming crates start at $28.95 plus shipping and handling.
Join the living and subscribe to the Loot Gaming Crate!