Science with Amy from #BIGBANGTHEORY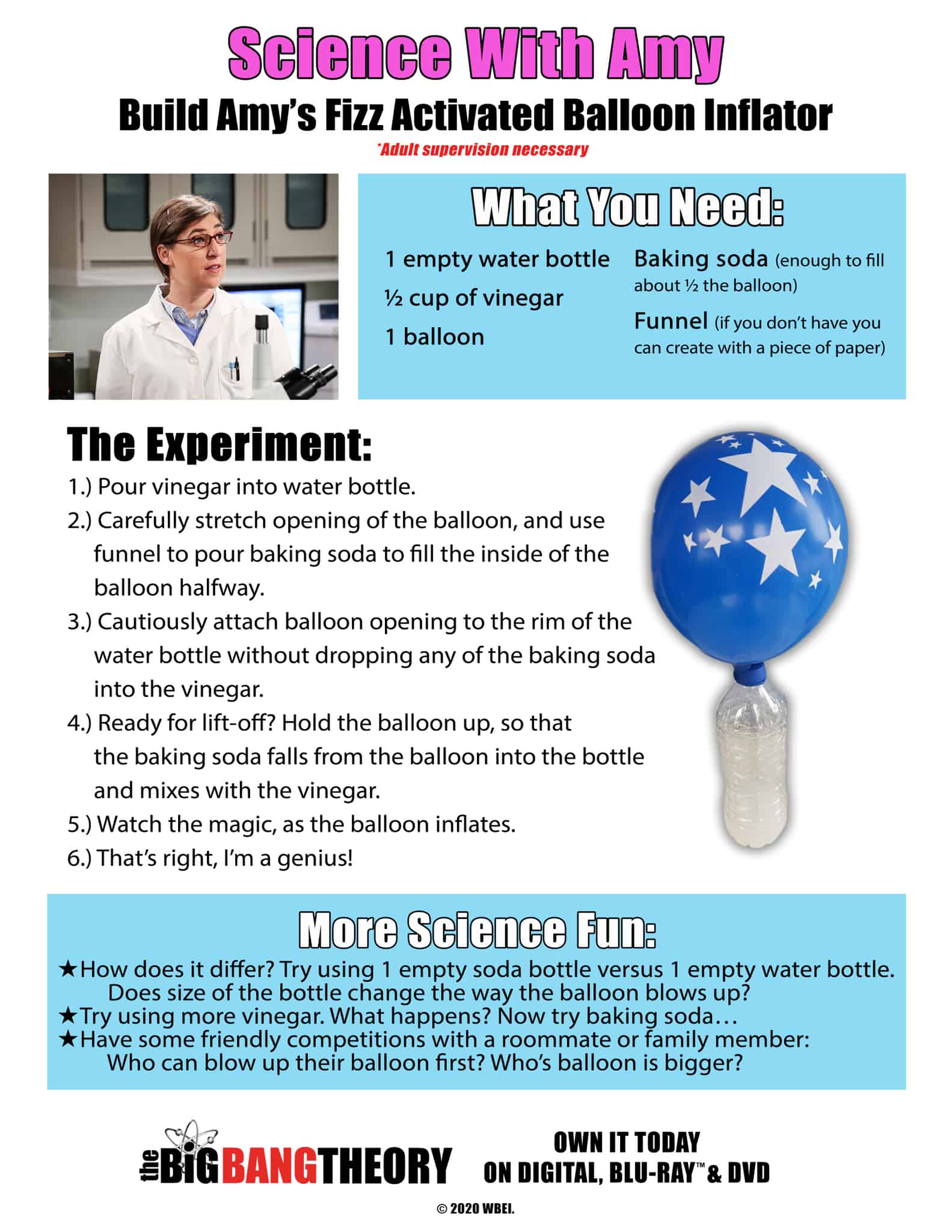 On behalf of The Big Bang Theory: The Complete Series, Warner Bros. Home Entertainment brings you Science With Amy! You probably have most of the supplies lying around your home to conduct this experiment – so grab your kids, or video chat with a friend for this one – as it's time to get nerdy and have fun! We highly advise you to get a whole bag of balloons, as you will want to do this over and over again! And parents – please note that adult supervision is always required with your Jr Scientists.
Home MEDIA NEWS REMINDER!
The only way to see The Big Bang Theory: The Complete Series commercial free is to own it on Digital, Blu-ray & DVD. All individual seasons are available to purchase here: http://www.ownwbtv.com/?bigbangtheory.
All seasons are also available to own at all major digital retailers; including iTunes, VUDU, Amazon Prime, and GooglePlay. DVD and Blu-ray (which include incredible extra features) can be purchased from all major retailers – including Amazon, Walmart, Target, and Best Buy. So, if you need a laugh and want something to binge on – now is the time to own this hit series!
All Big Bang Theory images are provided by Warner Brothers Productions.
Guy Ritchie's The Gentlemen arrived this week!
Get lit in the stylish ensemble caper, THE GENTLEMEN,a star-studded, sophisticated action-comedy written and directed by Guy Ritchie (Sherlock Holmes, Snatch). This engaging and unpredictable film is available now on Digital, lighting up on On Demand April 14, 2020 and on 4K Ultra HD, Blu-ray™ and DVD on April 21, 2020, from STXfilms and Universal Pictures Home Entertainment.
Set in the underworld cannabis industry in London, Ritchie makes a grand return to his signature, kinetic style, enthralling and surprising audiences with every scene, made even more dynamic by the performances of its star-powered ensemble cast. The home release includes exclusive bonus content bringing audiences deeper into the provocative world of the film.
THE GENTLEMEN follows American expat Mickey Pearson (Matthew McConaughey, Dallas Buyers Club), who built a highly profitable marijuana empire in London. When word gets out that he's looking to cash out of the business forever, it triggers plots, schemes, bribery and blackmail in an attempt to steal his lucrative domain out from under him.
Featuring an all-star cast, THE GENTLEMEN stars Oscar® winner McConaughey, alongside Charlie Hunnam (Pacific Rim, "Sons of Anarchy"), Golden Globe® nominee Michelle Dockery (Downton Abbey, "Good Behavior"), Golden Globe® winner Colin Farrell (The Lobster, In Bruges), Henry Golding (A Simple Favor, Crazy Rich Asians), Golden Globe® winner Hugh Grant (The Man From U.N.C.L.E., Love Actually), Jeremy Strong ("Succession," Molly's Game)and Eddie Marsan (Fast & Furious Presents: Hobbs & Shaw, Atomic Blonde).
BONUS FEATURES EXCLUSIVE TO 4K ULTRA HD, BLU-RAYTM, DVD & DIGITAL:
Behind-the-Scenes of THE GENTLEMEN – Get up close with the talented cast of THE GENTLEMEN as they give an inside look at the making of the film and share their experiences working with legendary director Guy Ritchie.
Best Gentlemanly Quips – A selection of some of the funniest lines from THE GENTLEMEN that spotlights the witty writing behind the film.
Glossary of Cannabis – Viewers are given a fun educational montage highlighting the numerous nicknames of Marijuana shown throughout the film.
Photo Gallery
THE GENTLEMEN will be available on 4K Ultra HD in a combo pack which includes 4K Ultra HD Blu-rayTM, Blu-rayTM and Digital. The 4K Ultra HD will include all bonus features on the Blu-rayTM disc.
4K Ultra HD is the ultimate movie watching experience. 4K Ultra HD features the combination of 4K resolution for four times sharper picture than HD, the color brilliance of High Dynamic Range (HDR) with immersive audio delivering a multidimensional sound experience.
Blu-rayTMunleashes the power of your HDTV and is the best way to watch movies at home, featuring 6X the picture resolution of DVD, exclusive extras and theater-quality surround sound.
Digital lets fans watch movies anywhere on their favorite devices. Users can instantly stream or download.
Celebrating 20th Anniv. of DIGIMON, Shout! Factory to release DIGIMON ADVENTURE: LAST EVOLUTION KIZUNA on Blu-ray and DVD July 7, 2020
DigiDestined and loyal fans will always be together! This summer, get ready as the DigiDestined and their Digimon return in a thrilling new adventure. In honor of the 20thAnniversary celebration of DIGIMON, Shout! Factory, in collaboration with Toei Animation, is proud to present the new anime feature DIGIMON ADVENTURE: LAST EVOLUTION KIZUNA on national home entertainment shelves on July 7, 2020. Available for the first time in North America, this new movie features the last adventure of Tai and Agumon.

Each highly collectible edition of DIGIMON ADVENTURE: LAST EVOLUTION KIZUNA DVD and Blu-ray Combo Pack (Blu-ray + DVD) boasts exciting movie presentation (featuring both versions – English voice cast and the original Japanese audio with English subtitles) and contains new insightful bonus features, which are currently in progress and will be announced at a later date.  

A must-own for fans, collectors, and pop culture enthusiasts, this definitive entertainment release promises to captivate you on the edge of your seat. DIGIMON ADVENTURE: LAST EVOLUTION KIZUNA is available for pre-order now at ShoutFactory.com and will be made available in stores and other fine retailers.
Die-hard fans further rejoice! Toei Animation has revamped this highly sought-after anime movie for North American audiences by bringing onboard a stellar English voice cast. Joshua Seth, who voiced the main character Tai Kamiya in the original series, returns to the role for this feature film, alongside an exciting team of voice talent. As excitement builds for the DIGIMON ADVENTURE: LAST EVOLUTION KIZUNA Blu-ray and DVD release, Shout! Factory and Toei Animation will announce additional news and activities for fans in the incoming months.

Digimon Adventure: Last Evolution Kizuna takes place five years after the events of "Digimon Adventure tri," the six-part film series released in 2015. Now on the cusp of adulthood, Tai and his DigiDestined friends discover that with age their bonds with each of their Digimon will ultimately break. How does it end for Tai, Agumon and the others? Fans must watch Digimon Adventure: Last Evolution Kizuna to find out the answer.

DIGIMON ADVENTURE: LAST EVOLUTION KIZUNA Movie Synopsis Tai is now a university student, living alone, working hard at school, and working every day, but with his future still undecided. Meanwhile, Matt and others continue to work on Digimon incidents and activities that help people with partner Digimon. An unprecedented phenomenon occurs and the DigiDestined discovers that when you grow up, your relationship with your partner Digimon will come closer to an end.

As a countdown timer activates on the Digivice, they realize that the more you fight with their partner Digimon, the faster their bond breaks. Will you fight for others and lose your partner? The time to choose and decide is approaching fast. There is a short time before "chosen children" will become adults.
IFC Films to Launch "The Indie Theater Revival Project" to Support Movie Theaters
IFC Films is proud to announce, "The Indie Theater Revival Project," an initiative to support its theater partners as they reopen for audiences in the coming weeks and months. The company has put together 20 curated retrospective programs, which include approximately 200 films spanning IFC Films' 20-year history and will make them available to cinemas across the US, starting May 29. No film rental will be due for these special engagements. A selection of the programs will also be presented at IFC Center, IFC Films' cinema in New York City, when it reopens. "The Indie Theater Revival Project" allows theaters to book any number of the retrospective programs, in part or in total, any time through the first month after a theater reopens. Theaters can sign up for the project and get more information at www.ifcfilms.com/films/indie-theater-revival-project.
"Independent theaters across the country have been essential partners for us at IFC Films, and we would not be where we are today without their support," the company announced in a statement. "We wanted to take the first step and let theaters know that we are committed to helping them reopen their doors by providing a selection of films to program while the new release landscape gets back to normal."

The 20 retrospective programs available in "The Indie Theater Revival Project" include "Yes We Cannes!" (award-winners from the Cannes Film Festival, including 4 MONTHS, 3 WEEKS, 2 DAYS and THE WIND THAT SHAKES THE BARLEY); "Discover Together" (a slate of family-friendly documentaries including CAVE OF FORGOTTEN DREAMS and PICK OF THE LITTER); portraits of the famous and infamous (from Joan Rivers to Elaine Stritch to Che Guevara and beyond); outrageous genre favorites (including THE BABADOOK, ANTICHRIST, and THE HUMAN CENTIPEDE); and IFC Films' greatest hits.
A preliminary lineup is available at www.ifcfilms.com/films/indie-theater-revival-project; a complete list of the programs will be announced in the coming weeks. The first three retrospective programs to be announced are:

Greatest Hits: Indie Blockbusters from IFC Films
BOYHOOD (Richard Linklater, 2014) Y TU MAMA TAMBIEN (Alfonso Cuaron, 2002) THE DEATH OF STALIN (Armando Iannucci, 2018) CAVE OF FORGOTTEN DREAMS (Werner Herzog, 2011) TOUCHING THE VOID (Kevin Macdonald, 2004) 45 YEARS (Andrew Haigh, 2015) FRANCES HA (Noah Baumbach, 2013) BUCK (Cindy Meehl, 2011) ME AND YOU AND EVERYONE WE KNOW (Miranda July, 2005) THE MAN WHO KNEW INFINITY (Matt Brown, 2015) PHOENIX (Christian Petzold, 2014) BLUE IS THE WARMEST COLOR (Abdellatif Kechiche, 2013)

Yes We Cannes! – A selection of 15 IFC Films releases that have won major prizes at the Cannes Film Festival Palme d'or (Best Film) winners:
I, DANIEL BLAKE (Ken Loach, 2016) DHEEPAN (Jacques Audiard, 2015) BLUE IS THE WARMEST COLOR (Abdellatif Kechiche, 2013) 4 MONTHS, 3 WEEKS AND 2 DAYS (Cristian Mungiu, 2007) THE WIND THAT SHAKES THE BARLEY (Ken Loach, 2006) Camera d'or (Best First Film) winners:
ME AND YOU AND EVERYONE WE KNOW (Miranda July, 2005) HUNGER (Steve McQueen, 2008) Grand Prix (Second place award) winners: GOMORRAH (Matteo Garrone, 2008) THE KID WITH A BIKE (Dardennes Brothers, 2011) Jury Prize: FISH TANK (Andrea Arnold, 2009) LIKE FATHER LIKE SON (Hirokazu Kore-Eda, 2013) Best Director: PERSONAL SHOPPER (Olivier Assayas, 2016) Best Actress – Charlotte Gainsbourg: ANTICHRIST (Lars von Trier, 2009) Best Actress – Juliette Binoche: CERTIFIED COPY (Abbas Kiarostami, 2010) Best Actor – Benicio Del Toro: CHE (Steven Soderbergh, 2008)

Cult Icons – What makes a cult icon? Only the audience can decide. Explore 10 cult hits from IFC Films.
THE AUTOPSY OF JANE DOE (André Øvredal, 2016) THE BABADOOK (Jennifer Kent, 2014) COLD IN JULY (Jim Mickle, 2014) DEPRAVED (Larry Fessenden, 2019) FOLLOWING (Christopher Nolan, 1998) THE HOUSE THAT JACK BUILT (Lars Von Trier, 2018) THE HUMAN CENTIPEDE (Tom Six, 2009) KILL LIST (Ben Wheatley, 2011) SIGHTSEERS (Ben Wheatley, 2012) VALHALLA RISING (Nicholas Winding-Refn, 2009) WITCHING AND BITCHING (Alex De La Iglesia, 2013)
New Trailer for Into The Dark: Delivered
Check out the new trailer for Into the Dark's May episode, DELIVERED! In the series' Mother's Day installment, a pregnant woman's life is upended when she realizes someone close to her has darker plans for her and the baby.