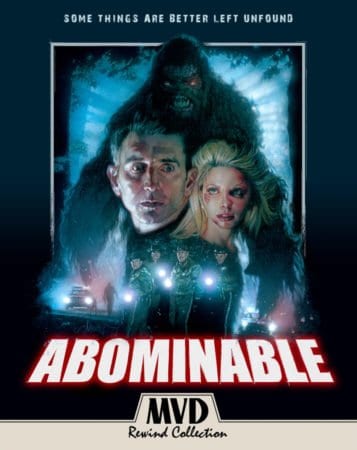 ABOMINABLE: SPECIAL EDITION
ABOMINABLE REVIEWED
"Abominable" is another one of those movies that disguises its paper-thin plot with its horror movie veteran cast. While a guy wanting to take revenge on the creature that wounded him is a pretty classic setup, something fun takes places here. While I barely remember seeing this one in theaters, I find that my home video revisit has produced a sense of communal pride that I rarely get from horror movies anymore. If you pick it up, watch it with a crowd and get the full creature feature appeal down pat. It's truly amazing.
SPECIAL FEATURES
Audio Commentary with writer/director Ryan Schifrin, Actors Matt McCoy and Jeffrey Combs
'Back to Genre: Making ABOMINABLE' featurette (SD)
Deleted and Extended Scenes (SD)
Outtakes and Bloopers (SD)
"Shadows" Director Ryan Schifrin's USC Student Film (SD)
"Basil & Mobius: No Rest For The Wicked" (16:28, HD) Short film written and directed by Ryan Schifrin featuring a score by legendary composer Lalo Schifrin and starring Zachari Levi, Ray Park, Malcolm McDowell and Kane Hodder
The original 2005 version of "Abominable" (Blu-ray only, 94 mins, SD)
Original Theatrical Trailer
Poster & Still Gallery
Storyboard Gallery
Collectible Poster
A/V STATS
1.78:1 1080p transfer
DTS-HD 5.1 master audio track
RELEASE DATE: OUT NOW!
Video -

94%

Audio -

93%

Special Features -

96%

Content Score -

90%
The Plot Thus Far
It has been sighted 42,000 times in 68 countries, a vicious creature of myth and legend called Sasquatch, Yeti, and perhaps most infamously, Bigfoot. It's been hunted it for years. But what happens when it decides to hunt us? After recovering from a horrific accident, paraplegic Preston Rogers moves back into the remote cabin where he and his now-deceased wife once lived. When his new neighbor Karen, is attacked by a gigantic creature, Rogers contacts the local authorities. But after the police and those around him dismiss Rogers as a delusional widower, he sets out to stop the abominable creature himself. Featuring an all-star cast that includes Matt McCoy (L.A. Confidential, HBO's "Silicon Valley") Jeffrey Combs (Re-Animator, The Frighteners), Paul Gleason (The Breakfast Club, Die Hard), Rex Linn (Django Unchained, A Million Ways To Die in the West), Haley Joel (Tony 'n' Tina's Wedding), Phil Morris ("Seinfeld", Black Dynamite), Dee Wallace Stone (E.T., Cujo), Tiffany Shepis (Tales of Halloween, Victor Crowley) and Lance Henriksen (Aliens, Hard Target)in this wild and gruesome throwback horror shocker that Fangoria called "the best serious fright film ever made about Bigfoot!" Originally shot on 35mm, Abominable makes it HD debut featuring a brand new high definition transfer from the original camera negative and an ALL-NEW cut of the film with improved CGI-effects overseen by Director Ryan Schifrin and Editor Chris Conlee with enhanced color timing and correction and in this fully loaded collector's edition set!
You must log in to post a comment.