Today, we're going to go 40 for 40. What does that mean? Well, Troy is obviously busy as Hell on the site and we miss a lot of things here and there. On the first day after July 4th, we're going to try and cram as much content that we missed into one post.
Let's go 40 for 40
1) Lagree Fitness Partners with Lagreeing At Home For On Demand, Live Class Platform
Lagree Fitness is ready to kick off at Lagreeing at Home.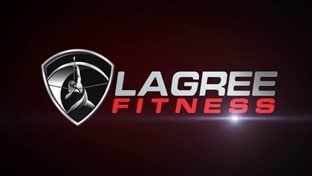 LaGree Fitness is the #1 virtual fitness class.
The microformers are available at https://lagreehome.com/.
2) I've been watching a lot of Scott Adkins movies
MVD is releasing the Scott Adkins Action Double Feature on July 6th. Watching it early, I find myself trying to make a connection to the low budget action movies that seem to be beloved fodder for a lot of the readership. I want to say that the guys at Flickering Myth were trying to get me to watch Savage Dog for awhile, so I figured why not make it one of the 40 for 40.
The end result? I actually liked Savage Dog as a period piece action movie vs. the rather generic nature of Close Range. Honestly, my thoughts on Close Range are part of the reason why I don't engage with movies like that. I first started my deep movie dive circa 1989-1994. I saw enough generic Direct to Video action pieces that eventually they all started looking the same.
While the media market might have changed, it's a bit of personal bias that causes me to lump a lot of movies into that same purview. Oh well, it was still a worthy timekiller. The Blu-ray comes with a handful of special features such as trailers, featurettes and behind-the-scenes material.
3) What in the world is Lilly's Light?
Lilly's Light is a strange Filmrise movie added to the pile a few days ago. As the 40 for 40 continues, expect some oddities to get into the mix. When I first finished it, I was a little worried. I didn't want to tear apart a movie that might have been someone's personally funded labor of love. Then, I took the note of the talent in front and behind of the camera. Then, I felt better.
Children will watch anything, but so much of their entertainment is just dumb. While this material feels a few years old, I still think that Fred Willard probably doesn't want to be remembered as the Wizard of Hog. Little kids will love this, but once they hit the age of 8…they'll join the rest of the world in skipping this one. The Blu-ry comes with featurettes, photo gallery and a trailer.
4) 40 for 40 continues: Check out the trailer for Dead and Buried
5) Royal Deceit is the latest entry in now famous British actors had careers in the mid 1990s subgenre
Royal Deceit continues the 40 for 40 coverage today. The film is based in an early Danish myth that would later inspire Hamlet. That means Christian Bale gets to mope about the place and attack others. Brian Cox, Kate Beckinsale and Helen Mirren turn into strong supporting turns. Then, you've got Andy Serkis making his film debut. It's pretty awesome and well worth checking out. The Blu-ray comes with a trailer.
6) Stardust asks is it still Bowie without David Bowie's music?
Stardust was an IFC release that disappointed me. The 40 for 40 continues, as I try to make sense of one of the movies that hit me wrong this year. Johnny Flynn and Jena Malone make the most of it playing David and Angie Bowie. But, somewhere between the fourth or fifth Marc Maron droning take, something stuck out.
This is David Bowie as an opening act. Hell, not quite that. The Bowie estate wouldn't approve the movie or allow the music to be used in a film. So, what happened next was Johnny Flynn making the most of it playing covers that Bowie would've played in 1971. You get the idea that he's about to develop Ziggy Stardust, but nothing comes of it.
The Blu-ray comes with an Audio Descriptive Track and trailer. However, Stardust never feels necessary at any point of the production.
7) I listened to HorrorPops Live at the Wiltern and never felt older.
As the 40 for 40 continues, I want to say how much I enjoy these Blu/CD/DVD combo packs that Cleopatra Entertainment releases. HorrorPops is a Danish group that has been around for decades that I never heard about until now. Normally, the older you get…the harder it's supposed to become to accept new music. However, I enjoyed the theatrics presented here. I just wish for a live concert shot in 4K that it would have had a 4K option. Still quite a fun experience you can take anywhere.
8) I spent a lot of time digging into Summer 1985 movies that didn't quite stick the landing. Naturally, Explorers was the focal film.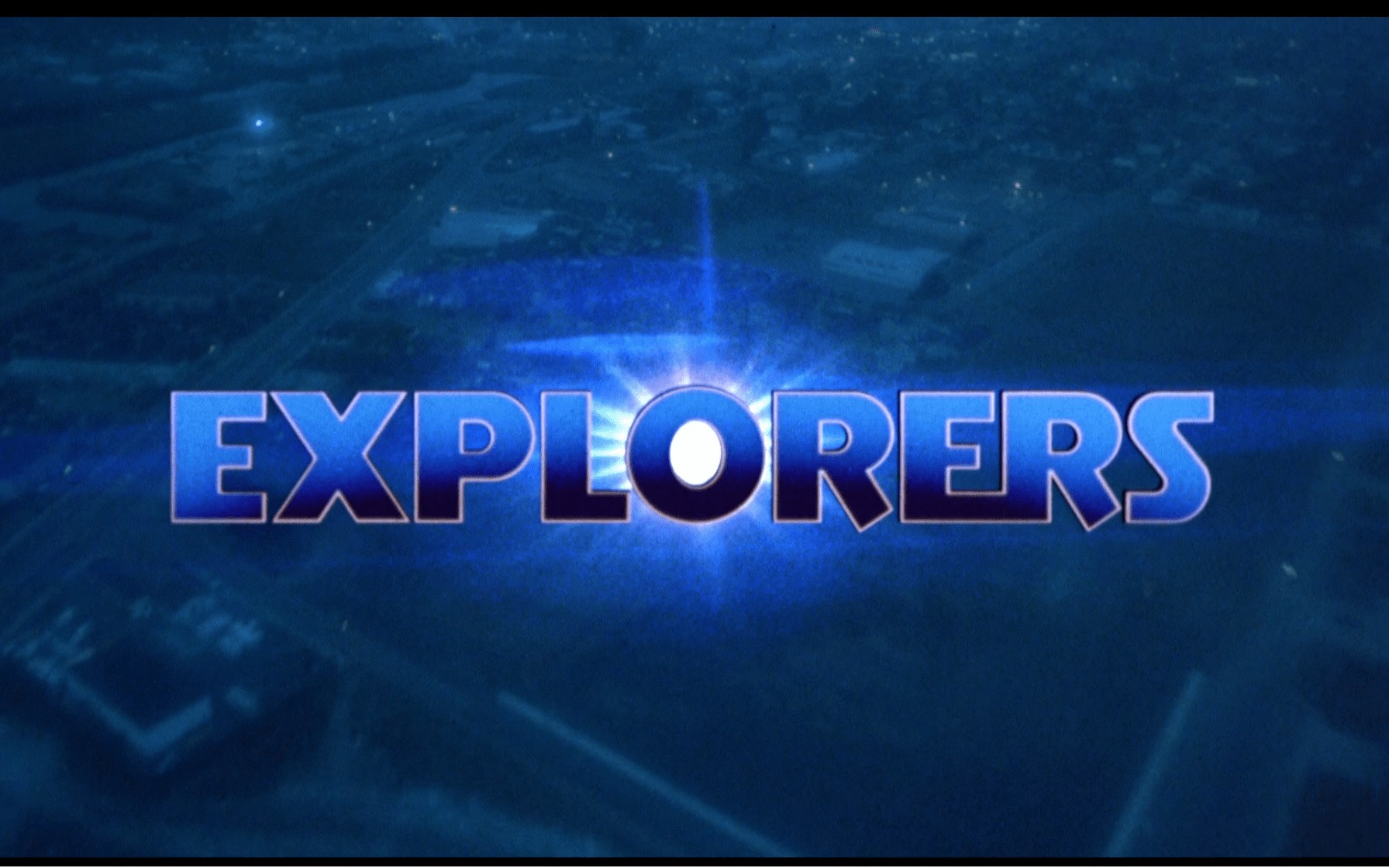 I could run the 40 for 40 thing into the ground by hammering on the tangential things, I'm working on. However, the recent Shout Factory release of Explorers has been a constant point of focus for me. While not my favorite Joe Dante film growing up, it was this weird cable offering that I would always catch in quick snippets. That and I kept noticing how the film looked like it was shot under a layer of Vaseline.
It was this young Boy's Life style adventure about science minded kids going to space and then meeting a kid alien with his own problems. Rushed into release by Paramount, it would be home video that finally saw Dante gets his preferred and final edited cut into release. Historically, it was weird to release a film like this against the cultural event that was Live Aid. Counter programming rarely works in the way people plan on it.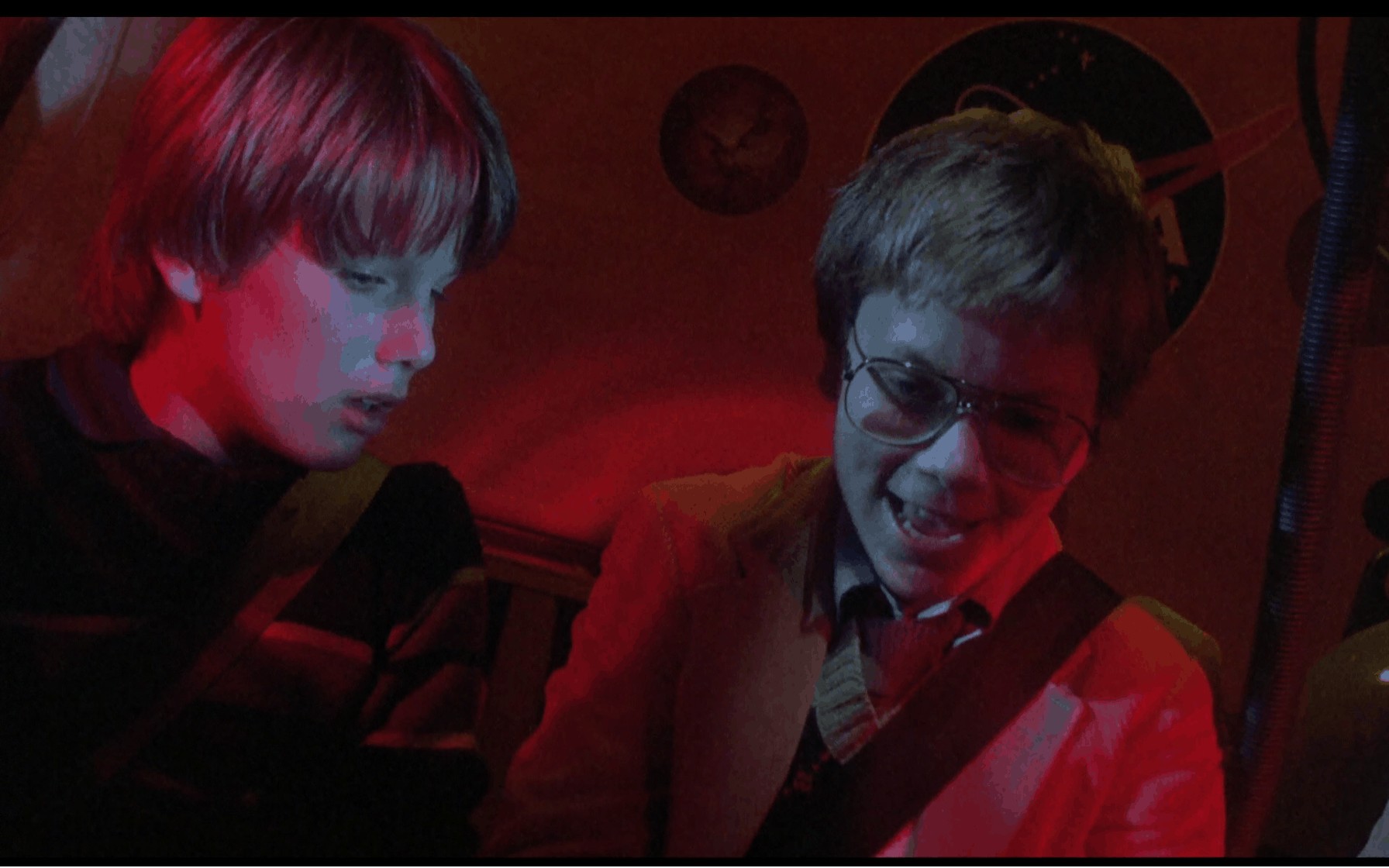 Thankfully, Shout Factory has found damn near every single special features that was ever made for Explorers. While I wanted to do a deeper dive on the movie, I feel for the sake of everyone's time…it's best to just highlight the perks of the Blu-ray. You get both cuts of the movie, new interviews, new deleted scenes with Joe Dante commentary, even more interviews and a trailer! This is 80s gold you never knew existed. Well, casual 80s fans.
9) I also watched Trevor Moore interview his sister. He does look like her in the Punk Rock sketch.
10) MVD is releasing Mortuary, which means I don't have to buy a scalped copy of the 2014 Scorpion Blu-ray
Mortuary hasn't been out of print, so much as just really hard to come by on Blu-ray. A lot of those early Scorpion Releasing Blus got picked up on the collector market and then disappeared. While you get the basic composer interview and correct aspect ratio, there's not a ton to go alongside the main film. If you dig the combined work of Christopher and Lynda Day George, this will be for you. Onward with the 40 for 40!
11) House of Sorority Row is getting the MVD Rewind Collection treatment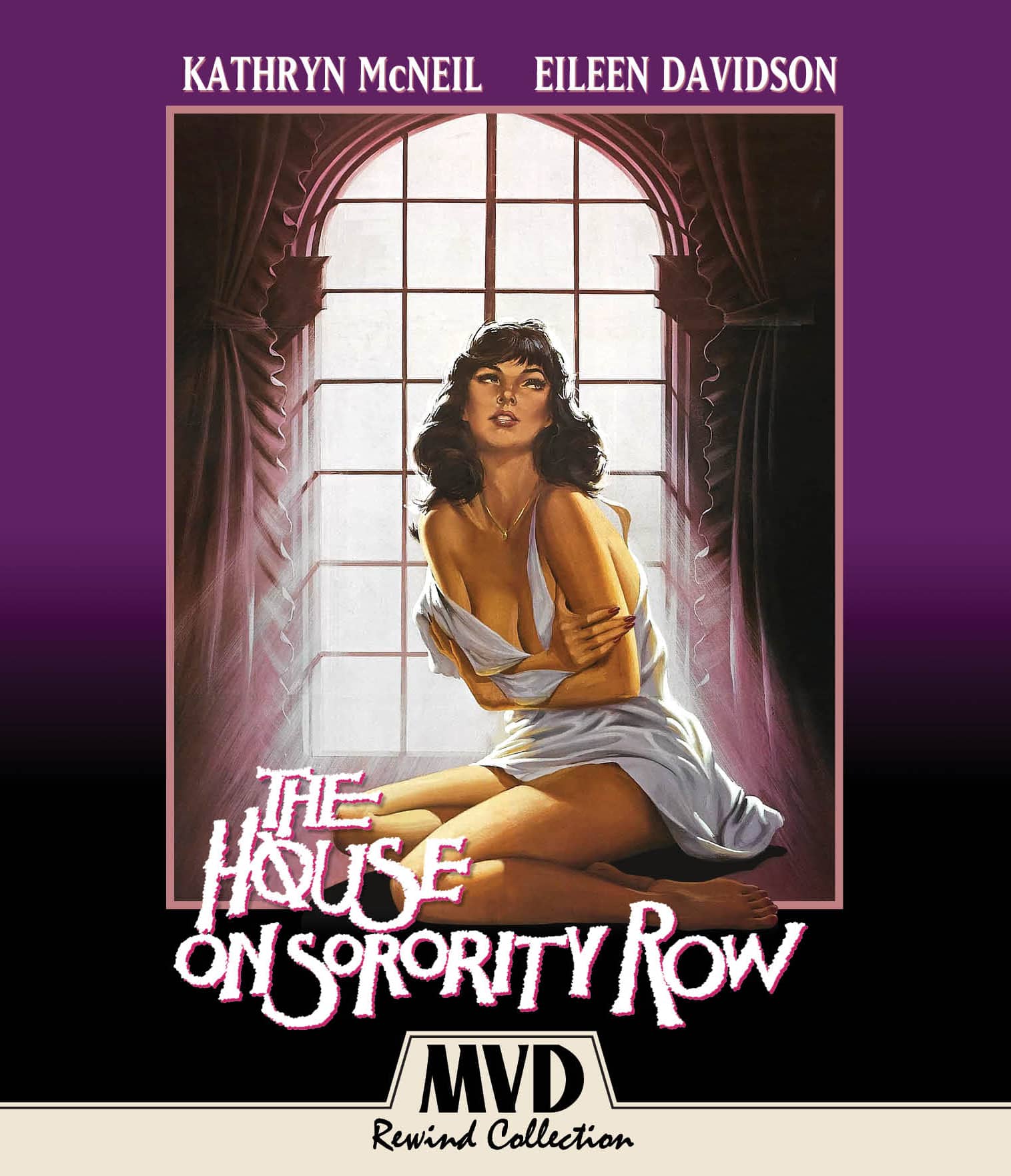 House of Sorority Row is another one of those Scorpion titles that kept going in and out of stock. I picked up one of those first Blu-rays and now I'm taking a look at the new disc. Honestly, this is why I'm doing the 40 for 40. Mainly because I enjoy what I'm seeing, but a lot of it holds the same. I know that the younger kids don't want to read me waxing on about early 80s horror.
But, what people need to know is that you're getting the Scorpion special features ranging from the correct aspect ratio, the commentaries, featurettes and even more. Plus, you get a cool mini-poster. I didn't get a mini-poster in my first House of Sorority Row Blu-ray.
12) I've taken to an insane fascination with the 1983 classic HBO logo.
13) What would the 40 for 40 be if not a chance for me to promote things?
The 40 for 40 event is a catch-all that disguises a lot of upcoming plans. I'll stop being coy and lay one upcoming plan in great detail.
Not only are we bringing back theatrical reviews, we're one-upping our overall approach. You won't see it in the 40 for 40, but we're dropping the filters. Less stuffy academic writing for the select few, but more overall appeal to the classic audience.
That doesn't mean we're stopping classic film reviews. Hell, we might be adding more to that. What it means is less of a concern to court the various writing organizations that keep wanting us to join up. When we do, they either want to gouge us on membership or they get mad when they meet our style.
This is all a long way of saying, we're back to pissing off those that deserve it. On with the 40 for 40.
14) The Criterion and Arrow Video 50% off sale is happening at Barnes and Noble
Amazon is also matching the same deals as long as they're in stock on the site. The 40 for 40 will probably get delayed, because Troy can't stop watching Switchblade Sisters.
15) Arrow is big on these giant box sets that take me forever to get through. The first I finished for the 40 for 40 was Years of Lead
Years of Lead is on sale at Amazon and Barnes & Noble currently. But, what did AndersonVision think of it? While Gabe and other writers tend to be more of the Italian cinema fans. I dabble a toe in the Police thrillers, the Giallo, the horror and even the crime thrillers. But, I can't say I'm an expert in that field as I am in others.
Savage Three, Colt 38 Special Squad, Like Rabid Dogs, Highway Racer and No The Case is Happily Resolved are a gallery of movies I'd never watch on my own. Somehow, Arrow has that cool movie magic wand that gets me to consider more movies like this. You get a ton of special features such as interviews and an alternate ending.
Plus, the A/V Quality is superior to almost all of the recent Italian releases I've been seeing. I recommend a purchase to fans.
16) I have a lot of thoughts on Zack Snyder.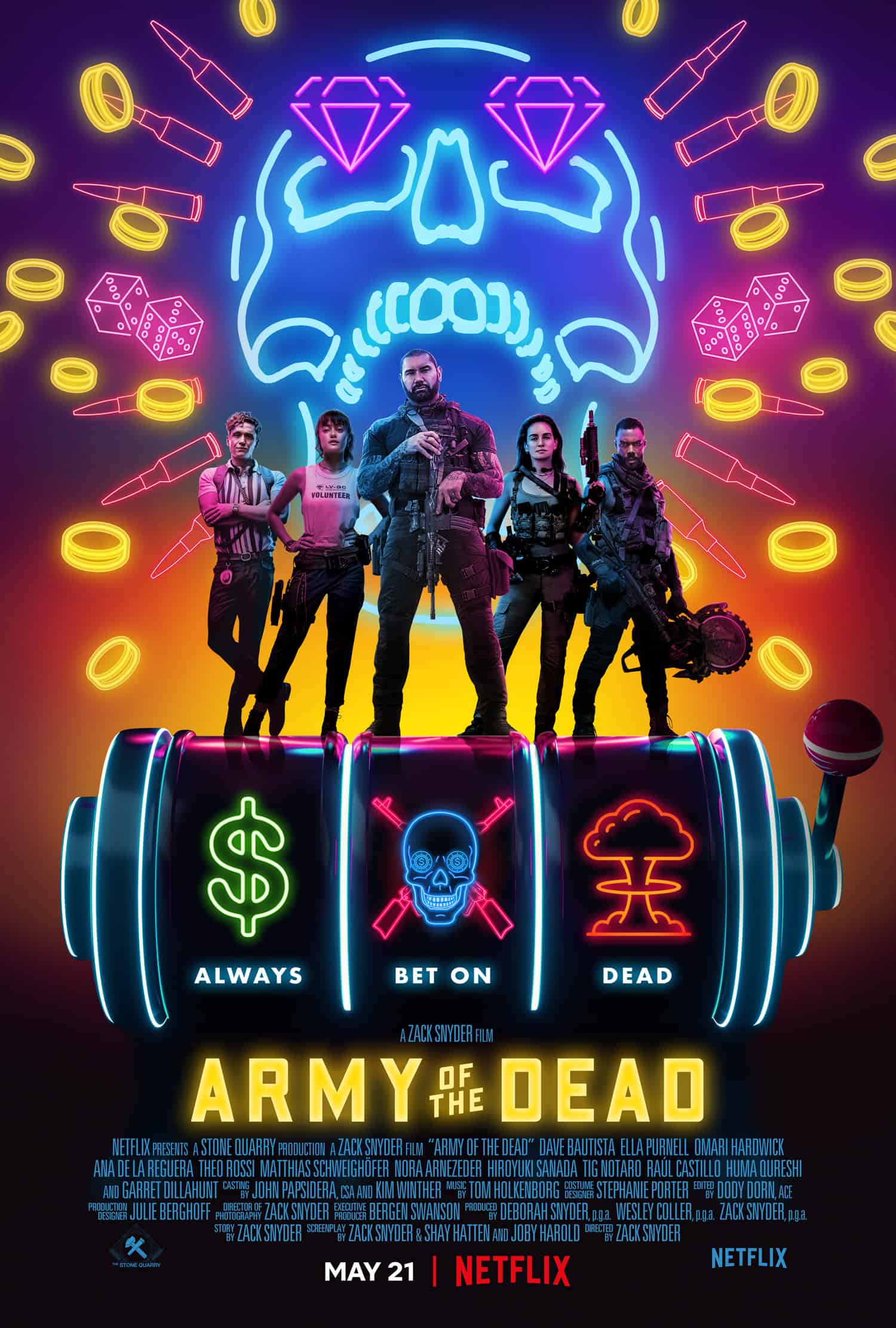 It's almost ready to launch. I'm just trying to give it a little longer until most of the fandom and outside haters have calmed down. Yeah, I said haters. I'm hip.
17) Threshold had an audio issue, but I still enjoyed it
Threshold ties addiction into cult based horror. While the premise is fascinating, I found the film to be a bit wild and meandering. But, that's the point of the 40 for 40. I'm taking you through the latest romp of films and pop culture I consume during a Holiday creative bender. Arrow brings the Blu-ray with commentary, featurettes, roundtable talks and more.
However, Arrow has announced a replacement program for the Threshold disc. Check out Arrow Video on Facebook and Twitter to learn more.
18) I've been listening to a ton of Sparks recently. Mainly, Angst in my Pants
19) That and I Predict.
20) 40 for 40 continues with Meadowlark Lemon highlights.
21) Vengeance Trails: Four Classics Westerns Part 1 in the 40 for 40
Lucio Fulci's Massacre Time was the first movie in the July 27th release of Vengeance Trails from Arrow. Franco Nero is one of two brothers that have to beat up a land baron and his crazed kid. It's early Fulci, so the horror master wasn't at peak gore yet. What's great is you get the Alternate US Dub, a documentary, galleries and properly restored audio. It's pretty solid.
22) Vengeance Trails: Four Classics Westerns Part 2 in the 40 for 40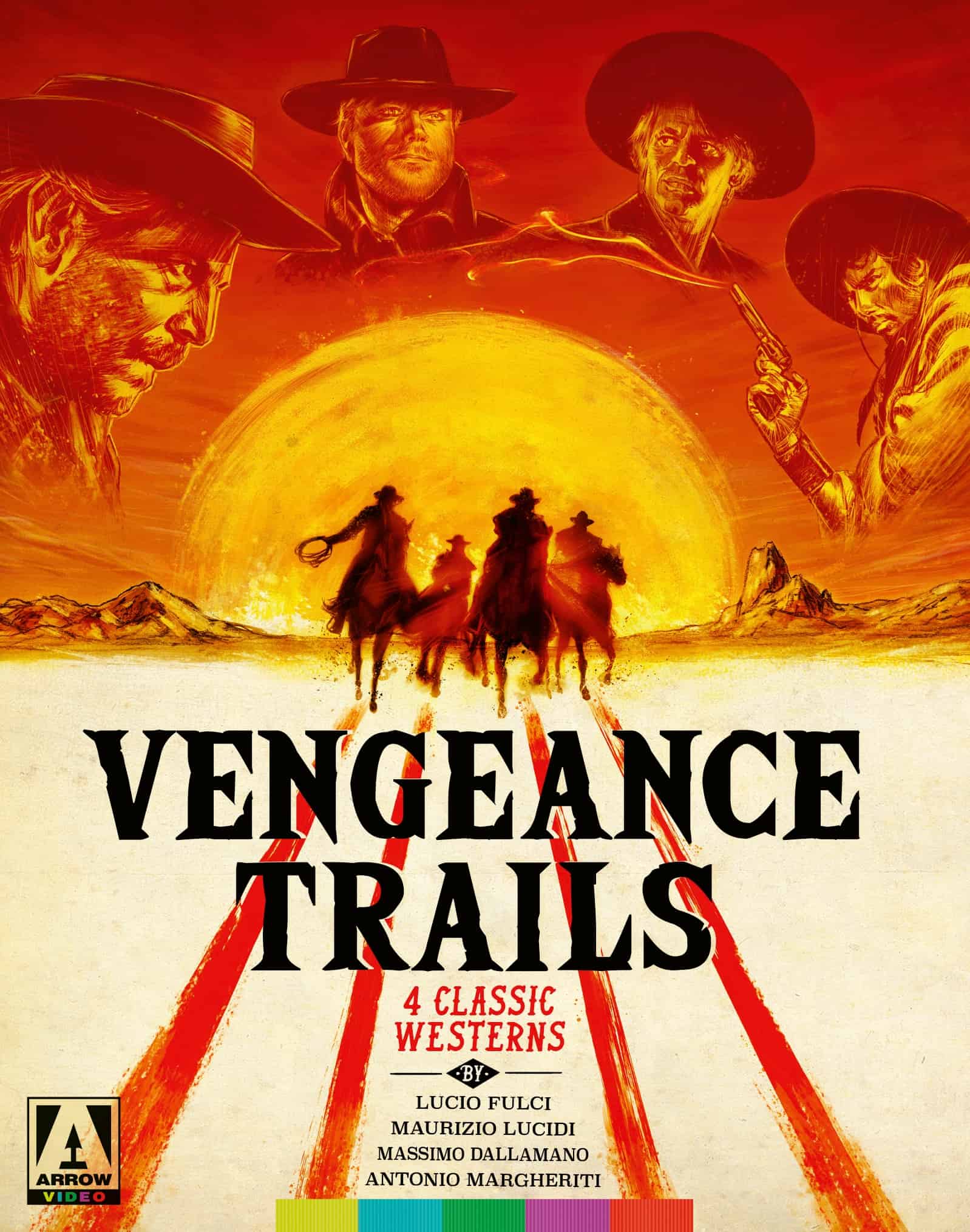 My Name is Pecos is super similar to the Fulci film on the first disc. This time, it's a kid who survives an attack on his family. As an adult, he stalks the crazed family that took everything from him C. Courtney Joyner provides a great commentary on this disc, but the special features don't feel as fresh this outing. I guess it's because the lesser movie out of the bunch.
23) Vengeance Trails: Four Classics Westerns Part 3 in the 40 for 40
Bandidos is about an old gunman who gets maimed by his protege. Now he has a new student and they team up to hunt down the man that wronged him. There comes a point of diminishing returns with all Westerns. The alternate end sequence is pretty cool, but again…the movie didn't do much for me.
24) Vengeance Trails: Four Classics Westerns Part 4 in the 40 for 40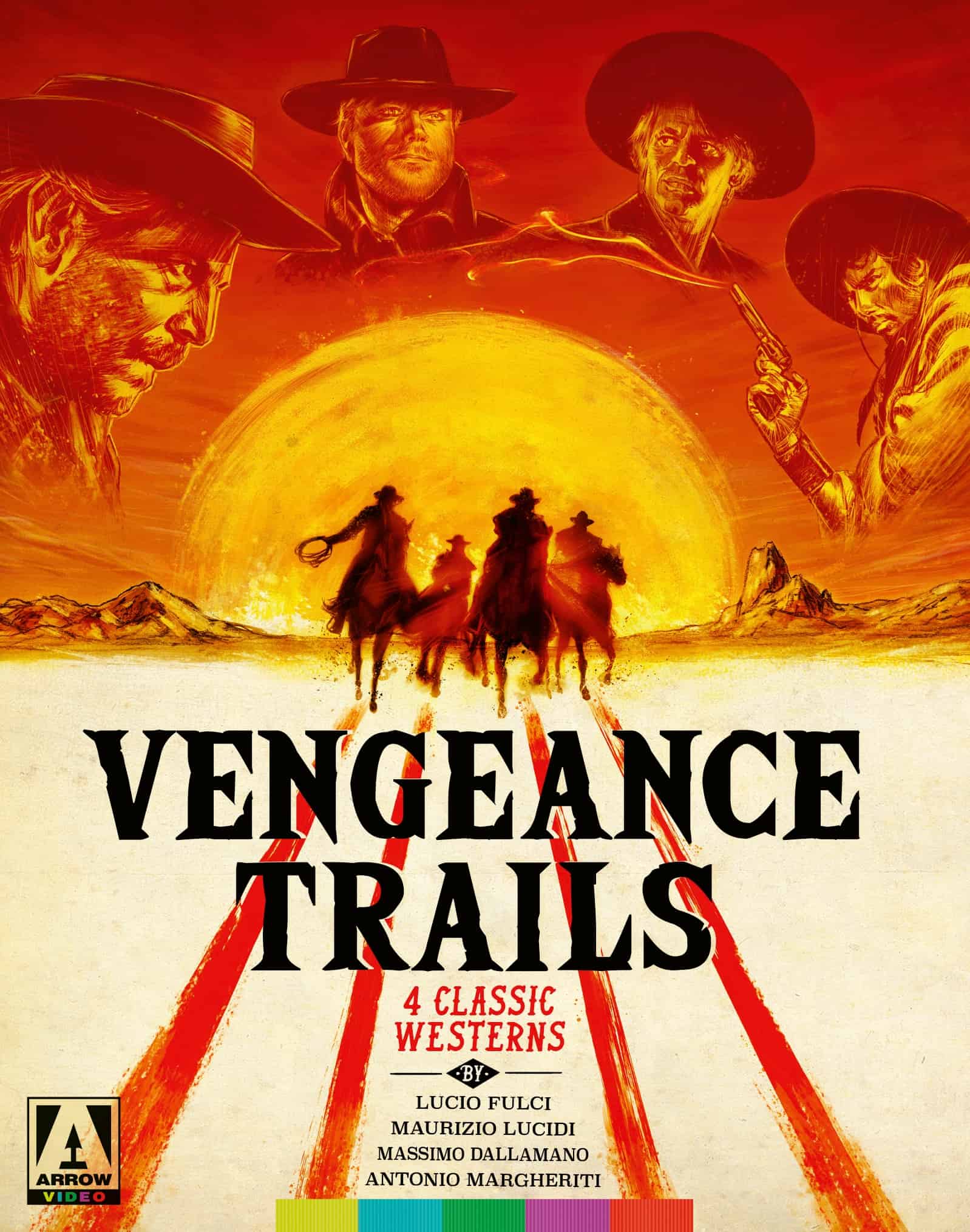 And God Said to Cain is the final film in the set. Antonio Margheriti directed the hell out of a wrong and unjustly imprisoned Klaus Kinski. The big finale of Kinski's rampage is what the film builds up to and the rest of the movie sucks just getting to that point. It's not the worst movie, but it doesn't pop. I think that's what hurts the Vengeance Trails set the most. It's so uneven.
25) 40 for 40 continues with The Outing / The Lamp trailer
26) Zephina Medina released Buster and Billie to Blu-ray on July 1st
I've been looking to get a copy of Buster and Billie since I was in college. It's not quite Hicksploitation and it's not quite a World War II/1950s drama. But, it's the Jan-Michael Vincent performance. Sorry, Airwolf fans.
27) Starting watching Almost Famous ahead of the 4K UHD review
If the average web reader knew how many web writers that movie impacted, then I think they'd hate Cameron Crowe for a lot more than Aloha.
28) A 40 for 40 break: Bill Burr's Philly rant
It's going to be age restricted, so watch it over there. This means more to me than most people.
29) PSH as Lester Bangs is my favorite thing in Almost Famous
30) 40 for 40 continues with Little Rita of the West
31) To Brandon, we're still working on The Two Jakes review.
It's just that maybe 3 people in the world cared about the Chinatown sequel.
32) To the team, Project Remulak is a-go.
Get your screen face ready.
33) To our dearly missed NJ friend, we say this.
Your friend in Nevada contacted us and said she appreciated the Blu-ray tips and recommendations.
34) I've become obsessed with fan edits recently.
Thanks to the help of several prominent fan editors, I've discovered a wild variety of fan edits that I never knew existed. I've watched 4 re-cuts of Hateful Eight in the last month alone.
35) 40 for 40 continues with a recent video about Fan Edits / Fan Activism
36) Even more 40 for 40 videos.
37) A 40 for 40 video for our VHS friends
We have something planned for you sooner than later.
38) Before we close out the 40 for 40, we wanted to tease some things we haven't committed to doing in the back half of 2021.
39) But, we're interested in tackling it.
40) Fear Street was directed by the spouse of one of the Duffer Brothers. Can you tell?
She did a bang-up job on Honeymoon. I'm just not feeling the Fear Street films so far.
That was the 40 for 40. Never let us speak of it again.