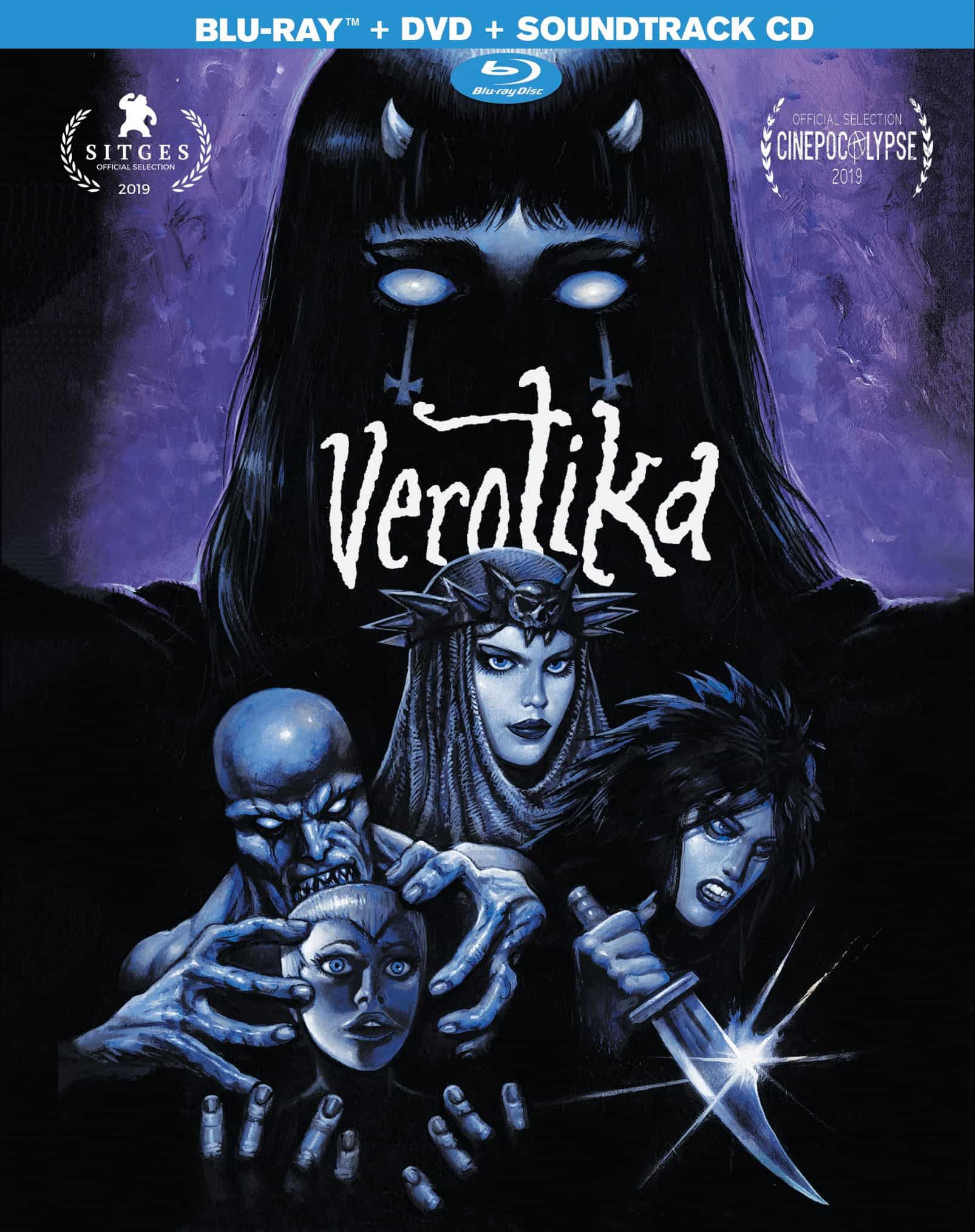 Verotika
Verotika is the Glenn Danzig masterpiece that America deserves now. When I started the 15 Blu-ray reviews, I wanted to make sure I discussed this one first. The material is adapted from Danzig's comic book line, but it's not like many of us read those books. We're here for the creepy visuals and the included CD soundtrack.
What would have floored me in 1997 now leaves me scratching my head. There are killer scenes that entice my inner 16 year old, but I guess I aged out of things. Still, don't let anyone downplay the film for you. There is bound to be a little metalhead in your life that will eat this up during this downtime.
Shooting the mafia
Shooting the Mafia is why I love the Cohen Collection. As I push this towards the top of the 15 Blu-ray reviews, it's to get the Cohen stuff more attention. Sicilian photographer Letizia Battaglia shot mafia war zones from the 1970s to the present day. This documentary follows Battaglia's amazing life as the first major female Italian photographer. Still, this feels like the most important film in the 15 Blu-ray reviews we tackle today.
Unintended
Unintended is kinda messed up. You star Elizabeth Lail plays a young woman who may have ended up killing a childhood associate. Now as an adult, she wants to fight if the guy died. Playing with the ideas of memory and emotion, we get to see if the past can truly be buried. The special features include a trailer and photo gallery.
Unintended arrives on April 14th.
The Cat and the Moon
The Cat and the Moon is a film written and directed by Alex Wolff. You'll know him as the guy that had a rough time in Hereditary. Well, he was the other other guy to have a bad time. But, he kept his head. Still, it's a film about a kid learning from his dad's friend (Mike Epps) about what it means to live in New York City.
The Blu-ray comes with a photo gallery and a trailer as the special features. The Cat and the Moon hits Blu-ray on April 14th.
Whiskey Galore! & Maggie
Whiskey Galore! is the first of two films in this set about the work of Alexander MacKendrick. I dig the holy hell out of Film Movement getting access to the Ealing Studios output. However, I wonder why modern audiences would take from Scottish people fighting for their right to have whiskey.
Maggie was more of a classic Ealing comedy, but also set in Scotland. While it was far more slight, it left me wondering why we didn't have any special features for the release. It seemed like Whiskey Galore got all of the attention. Oh well, I'd still recommend the Blu-ray to fans of classic UK comedy.
High Strung Free Dance
High Strung Free Dance is a dance movie featuring Jane Seymour. When I discuss the 15 Blu-ray reviews today, I'm going to venture out of my comfort zone a lot. What I got here was something that played like any number of dance films from the early 00s. While it was a visual treat, there's nothing here for people that aren't fans of dance. The Blu-ray comes with featurettes, music videos and an interview as the special features.
Rock & Roll Hall of Fame: In Concert
Rock & Roll Hall of Fame: In Concert is a massive release of every Rock N Roll Hall of Fame concert released in the Blu-ray era. If you haven't read the reviews so far, we've covered these releases in their solo forms. All of the special features remain the same, so check it out if you haven't seen them yet. If you own the solo releases, there is no reason to grab this repackage.
Jungle Queen
Jungle Queen is a 13 chapter serial from the mid 1940s that is now getting a 2K remaster. The film follows the Nazi plans to rob the jungle and overthrow the Jungle Queen. A team of Allies arrive to fight back the Nazi attack, but it doesn't matter. You get more wild animal attacks than Tiger King in a short amount of time. Plus, it was the 1940s. Anyone could have been maimed for life!
The Blu-ray arrives April 14th.
CMA Live: Greatest Moments 2008-2015
CMA Live: Greatest Moments 2008-2015 is another one of those killer Time Life releases for musical performances. While many of you aren't in the CMA target audience, what they do here is bring together some of the best in modern country in killer HD. I could've used more Kacey Musgraves and less Little Big Town, but I'll take what I can get. The special features are an interview and bonus performances.
The Skeleton of Mrs. Morales
The Skeleton of Mrs. Morales is a 1960 Mexican film based on an old horror story. What's killer is that it's a comedy about a taxidermist. Faster than you can say that's not a peppercorn, it's not long before we find out what's going to happen to Mrs. Morales. VCI never gets the proper love he deserves online, but these guys are saving so many forgotten films. Good work all around and well worth checking out.
The Point
The Point is one of the last reviews I have to tackle. 15 Blu-ray reviews didn't seem like a ton at the start. While I initially planned a much more fleshed out review, I realized something. The market for people that are into deep fringe early 1970s animated specials are pretty narrow. But, there is one big concern with this release. Did it look good?
Well, MVD did everything they could given the source elements. But, this was the most concerning among the 15 Blu-ray reviews today. Certain elements belonged to Canadian TV, other TV and multiple narration tracks that belonged to different venues. MVD did their best, but it's hard not to call this release an unfortunate compromise.
SWIFT
Swift was a film that I was supposed to cover a few weeks back. But, schedules and global craziness derailed that. Now, as I watch the Blu-ray I realize that I do something with these movies. I spent a fair amount of time watching how my kid responds to the material. While the central characters are fun enough, there isn't enough for little kids to hang for the entire 90 minutes
The Blu-ray comes with a featurette, trailer and an interview with Willem Dafoe. The once and future Norman Osborn should voice way more animated stuff. He's easily the best part of the movie.
Swift hits Blu-ray on April 7th.
Three arrow films releases
As we pull the 15 Blu-ray reviews coverage to an end, I realized we still have a handful of Arrow releases to discuss. Well, let's hammer away at it.
One Missed Call is another Asian horror release from Arrow. Honestly, they're filling in the gaps of my film watching that Tartan used to pin down. You get literally every special feature available about the movie, plus no need for that remake. It wasn't a bad remake, just superfluous. Oh well, it's still worth a watch.
The Passion of Darkly Noon is a film I heard a lot about, but never saw. Then, I saw it. I think Brendan Fraser is one of the most underrated actors alive and this only confirms it. Still, I want to asking Philip Ridley something. What the hell are you on and where can I get it? The power of imagination is immense, but then there are the jumps that normies can't make.
The Arrow disc is loaded with special features, but ignore that junk. Watch this movie on repeat and praise the Old Ones that Arrow dug this hard for an unseen gem.
Elvira: Mistress of the Dark was a movie that I spent my younger years trying to watch. Unfortunately, Showcase Cinemas wasn't cool with letting 7 year olds into movies like this. I dug comedy, I dug Elvira and I didn't see a problem. I didn't get to see the film until the 1990s and the Elvira zeitgeist had passed.
Thankfully, Arrow Films has brought out the special feature goods in one of the most loaded offerings of the 15 Blu-ray reviews.
Commentaries, featurettes, trailers and more can be found here! Check it out. Elvira: Mistress of the Dark arrives on April 28th!
These 15 BLU-RAY REVIEWS HAVE BEEN CONQUERED, SO AMERICA SHOULD BE OPEN AGAIN BY EASTER. THANK ME BY NEXT WEEKEND.