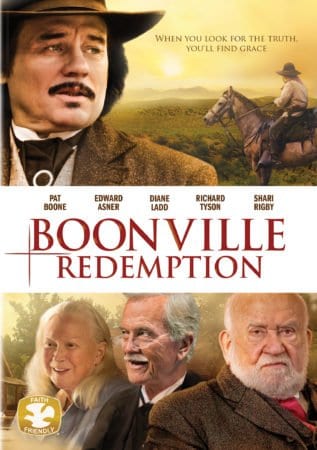 THE BOONVILLE REDEMPTION REVIEWED
"The Boonville Redemption" is an end-of-an-era Western about a young girl discovering her true parentage. If you're expecting John Wayne heroics, you're out of luck. This is a solid film about forgiveness and looking past the end of your nose. Families unite and communities come together, as a young girl just wants to learn the truth about her origins. Plus, there's a bit of an anti-domestic abuse message throughout the film. It's weird how that feels revolutionary here.
The cast is stunning and packed with amazing older actors. I just wish there was something here that really leaped off the screen at me. As it is, it's a wonderful time waster and worth it to older viewers.
SPECIAL FEATURES
A/V STATS
1.78:1 standard definition transfer
Dolby Digital 5.1
RELEASE DATE: 11/8/16
Video -

84%

Audio -

80%

Supplemental Material -

0%

Film Score -

75%
The Plot Thus Far
It's 1906 and 13 year-old Melinda is unhappy with the hand that life has dealt her. Born out of wedlock and scorned by many, Melinda desperately wants to know what happened to her real father, but no one will tell her. Determined to do all within her power to find her father, Melinda's bravery compels some of the townspeople to reveal the dark secrets that they have kept to themselves for years. Starring Pat Boone, Ed Asner, Diane Ladd.